High Quality with Lower Price
Apis Glass is a high-level manufacturer specializing in tempered glass fabrication and wholesale of shower doors in China.
Adjustable Hinged Frameless Shower Door
This versatile glass door can be used in various interior doors, such as bathroom doors, glass partitions, etc. It is one of the most popular glass door styles on the market. Simple style with affordable price. This frameless glass door comes with adjustable hinges made of brass.
What is adjustable? If the wall on which the door needs to be installed is not very vertical, it is very difficult to install the glass. At this time, it is only necessary to adjust the angle of the hinge to make the angle between the glass and the wall reach 90° vertical.
3 colors of adjustable brass hinges: Chrome, Brushed Nickle, and Matte Black. Qualified 3/8″ (10mm) clear tempered glass, Certifications include ANSI Z97.1 and 16 CFR 1201, CAN/CGSB 12.1-2017, own SGCC Certificate. 
All Products of Adjustable Hinged Shower Doors
24'' W x72''H Chrome
*DDP terms: Ocean and land transport freight, Customs clearance cost and tariff.
24'' W x72''H Brushed Nickel
*DDP terms: Ocean and land transport freight, Customs clearance cost and tariff.
32'' W x76''H Chrome
*DDP terms: Ocean and land transport freight, Customs clearance cost and tariff.
32'' W x76''H Brushed Nickel
*DDP terms: Ocean and land transport freight, Customs clearance cost and tariff.
| | |
| --- | --- |
| Min Order Qty | 1 pallet (30 sets), mixed styles to 1x 20' container |
| Payment | 50% of goods value and freight prepayment, 50% after receiving the goods |
| Included Components | 1 glass + 2 brass hinges + 1 handle + mounting hardware |
| Glass | 3/8'' (10mm) Clear Tempered Glass, SGCC certificate |
| Lead time | Produced+ transported+ arrive your door = 10-14 weeks. |
| Sample | 1 set/ Carton Box |
Optional Function for Adjustable Hinged Shower Door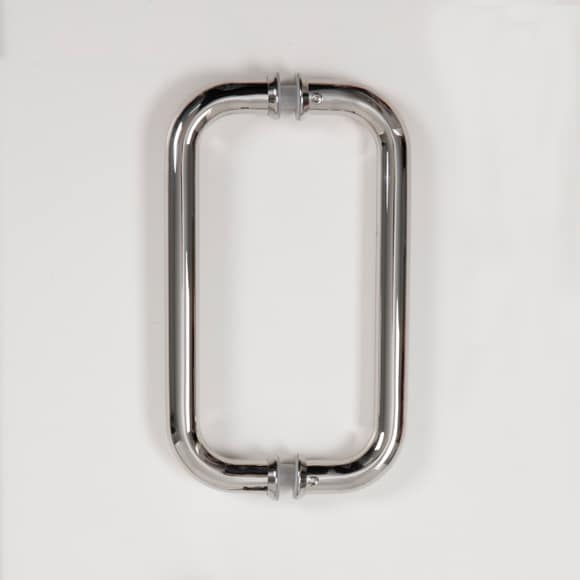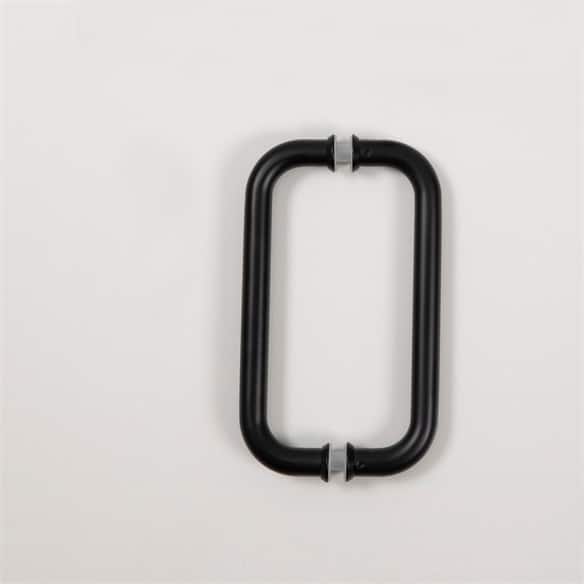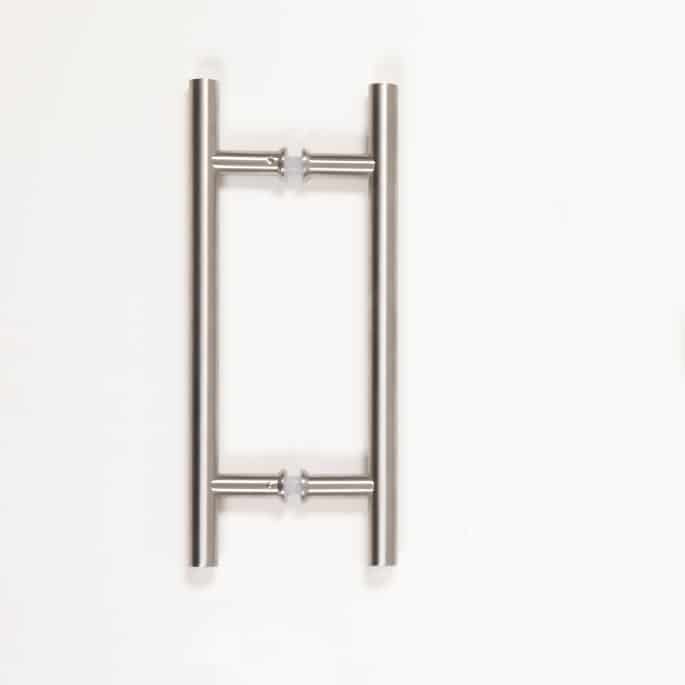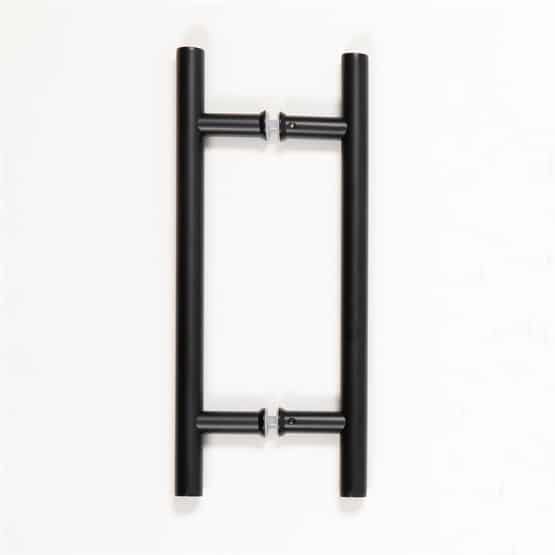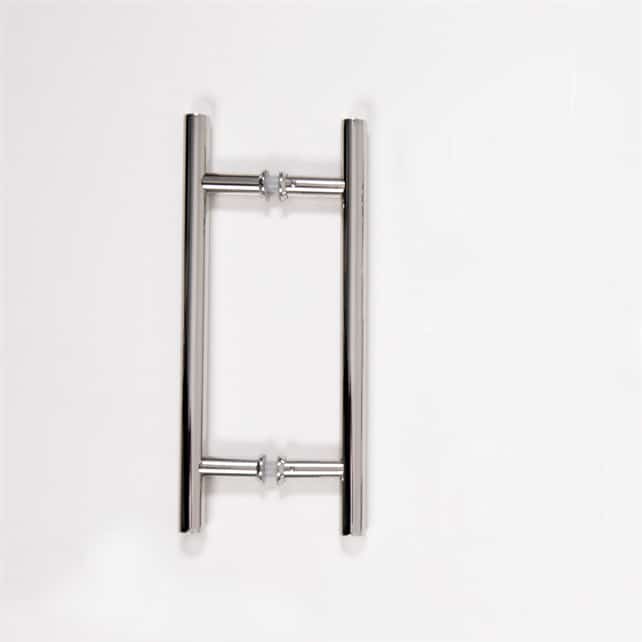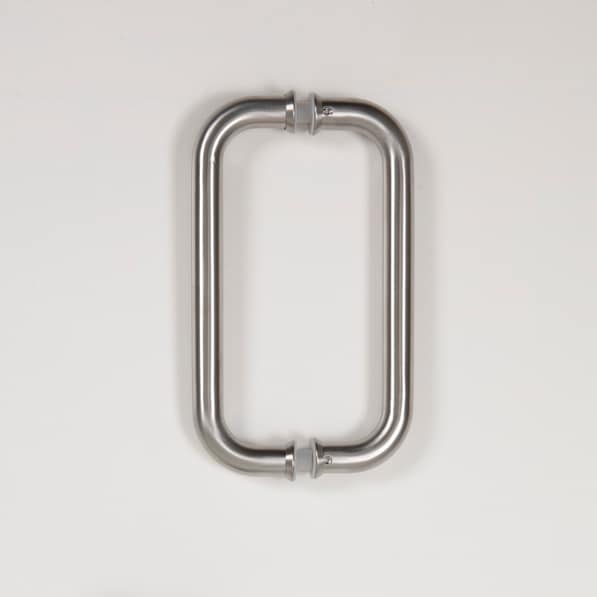 8'' Handle, included in quote
2 styles of handles: The most classic styles, Stainless steel material, and 3 colors: Chrome, Brushed Nickel, and Matte Black.
$4.6 / set for 24" x 72"
$6.5 / set for 32" x 76"
Double-sided easy-to-clean coating. We use Australian brand Enduro Shield, the validity period can reach 5-10 years.
Adjustable Hinged Shower Door Package
Packed in Plywood Crate
Glass are packed in plywood crate, hardware are wrapped up in each set. This packaging saves space in the container and loads more goods.
1. Each piece of glass is covered with a double-sided dust-proof film and covered with 4 corner protectors;
2. The Dust-proof film can effectively prevent the glass from scratching;
3. You can directly move the glass to your truck for installation, it can be easily handled, no need for more packages again;
4. In the process of handling and installation, don't worry about the glass being dirty; After installation, remove the protective film directly. Save you lots of time cleaning glass.
5. There are plastic corner guards on all 4 corners, which can protect the corners of the glass from being damaged during transportation and installation.
Packed in Carton Box
Each set of sliding doors is packed in a carton.
This packaging is very convenient for retail or wholesale in your store.
1. All parts and mounting hardware are included in the packaging;
2. 1 carton package=2 pcs glass + 2 brass hinges + seals + mounting hardware + instruction
3. 15 sets of sliding doors are packed on a wooden pallet for easy transport and use at the installation site;
APIS, Reliable Shower Glass Factory
Adjustable Hinged frameless shower door Installation
The installation of this product is very simple and fast.
We repeatedly install and test to ensure that each set of products is a qualified product, easy to install, and slides smoothly.
All factors that affect the installation are well controlled:
1) The processing quality standard of tempered glass fully complies with the international ANSI Z 97 and EN 12150 quality standards, and owns valid SGCC and CE certificates;
2) Each hardware and mounting hardware is inspected by workers before packing;
3) Each package has clear labels to ensure parts are not wrong.
From our glass factory, directly to your warehouse, there is no middleman to increase the cost and time, Please contact us to enjoy the preferential service.