Apis Glass Processing and Finishing Capacity
Started in 2005, Apis Glass focus on manufacturing high quality interior tempered glass, including shower room glass, interior door glass,  furniture glass,  printed glass mainly use for electrical appliances and furniture as decorative glass panels. 
We have a complete interior tempered glass production line, including cutting, edge grinding, drilling, cornering, waterjet cutting,  silk screen printing, flat glass tempering, curved glass tempering, woodbox packing and sales carton packing.  Meanwhile, we also provide shower enclosure assembly work and provide additional service like easy clean nano coating, safety film.  

#1 Glass Cutting: Custom shape with accurate size
We use fresh raw glass within 3month made by Taiwan Glass. Our Automatic Bottero cutting line can cut 3~12mm glass in any shape, including rectangle, round, other irregular shapes. 
We always clean up the glass debris on the countertop in time , to protect your glass from scratch. 
#2 Glass Grinding : All edge finishes
Our glass grinding machines produce the neatest and safest edges for your glass.  We have double edge grinding machines and round glass grinding machines and CNC machines.  Can process flat edge, pencil edge, beveled edge, ogee edge,  polished and matt finishes.  Our edge works are very much loved for its uniform chamfer edge and  smooth hand feeling.
#3 Waterjet Cutting, Drilling Holes, Cornering
With advanced waterjet cutting machines, automatic punching machines and cornering machines, we could process any cutouts and holes, and corners.  The glass panels are going to be installed and used,  focusing on this, we process every piece of your glass at highest precision.  
#4 Silk Screen Printing: Various colors and patterns
After 10 years' printing practice, we developed a professional team, and rebuilt a dust-free workshop with cleaning air supplied.  Use high-temperature environmental friendly ceramic inks from American Ferro and Italian Fenzi,  Printed before tempering. It has the features of scratch resistance and long time color adhesion.  We can print any colors and patterns of your unique design on the glass panel.  
Our company's internal standards are higher than the European CE standards and the US SGCC standard basic standards. We inspect the tempered glass on each shift: flatness, granularity, and record data.  We pursue a range of granularity, which makes the stress of our tempered glass uniform and effectively reduces spontaneous explosion.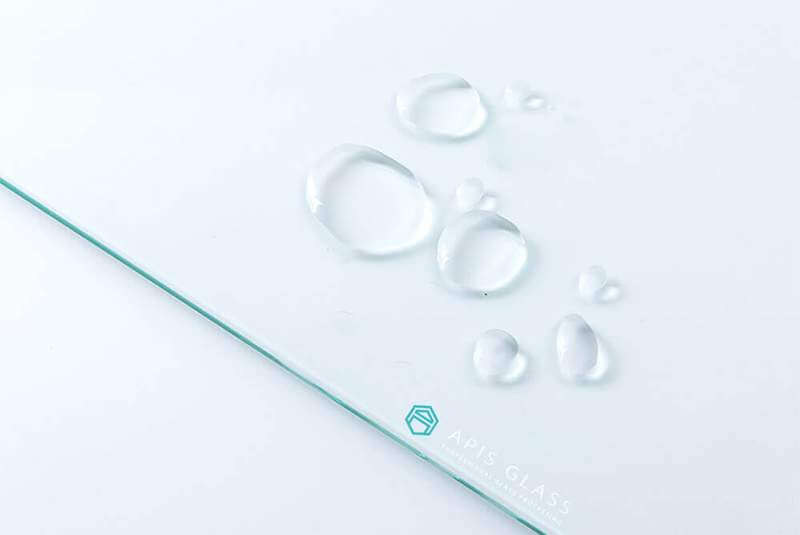 We use Enduroshield from Australia. Easy clean coating is invisible, non-stick coating that reduce cleaning time up to 90%, with 5 or 10 years warranty.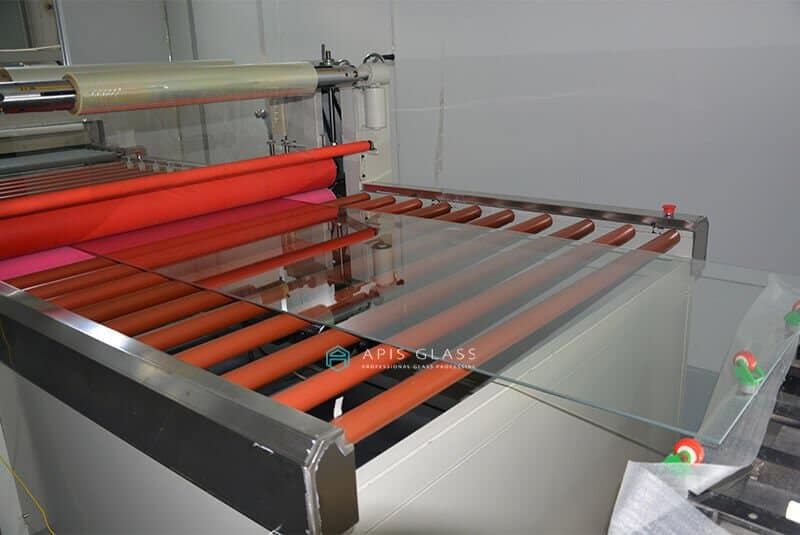 In order to prevent accidental damage to people caused by tempered glass during use, we provide safety film services which has been proven for 3 years by the market.
16 years manufacturing and exporting shower glass and furniture glass, We've learned a lot from the past.  Now we know how to package your glass to ensure every piece you receive is perfect and without any damage.  Not only ensure safe transportation, but also we make it easy to unload and manage when you received. 
Thousands of container loading experience, we know how to package and fix it inside the containers so every piece of your glass arrive you safe and perfectly. 
#9 Assembling Shower Enclosure
Due to our customer's requirement, we have owned ability of Shower Door Assembling and Sales-Package Packing. After 15 years practice, we havedeveloped a professional team of shower cabin.  We have rich experience and  knowledge for assembling and  resource of components like Aluminum Profile, Marble Tray, Brass Hinge, Hardware and Spare Parts. 
We have an experienced and professional sales team to serve you and fully understand your needs. With our 16 years of valuable experience in shower room glass, we can better help you and your brand.