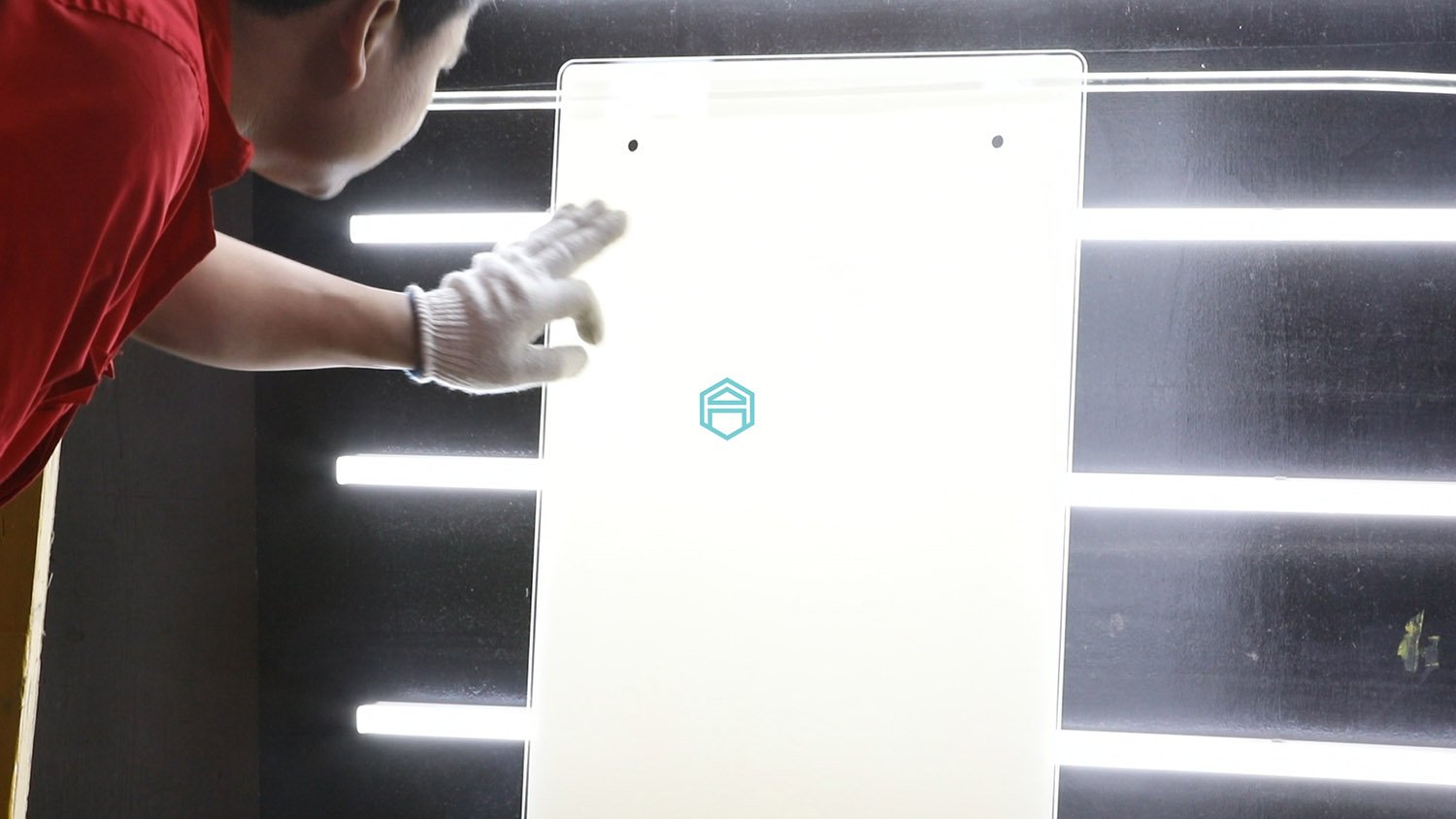 Frosted glass has become a very popular product for architectural and decorative applications, so if you or your company want to stay competitive in the glass business, you need to make sure you have the best frosted glass supplier.
Perhaps you have already arrived to the right place. APIS Frosted Glass offers high quality at a competitive price with silk screen printing. But how do we make it possible? Keep reading as we tell you the details.
How is Frosted Glass Made?
The first thing you or your company need to consider is the fact that there are different methods to make frosted glass.
Moreover, frosted glass manufacturing can be divided into two categories, these being the frosting effect on the whole surface and the frosting effect to create a desired pattern.
To achieve any of the effects mentioned above, normally two kinds of frosted glass methods are used. They are sandblasting and acid etching. Let's take a look at each of them.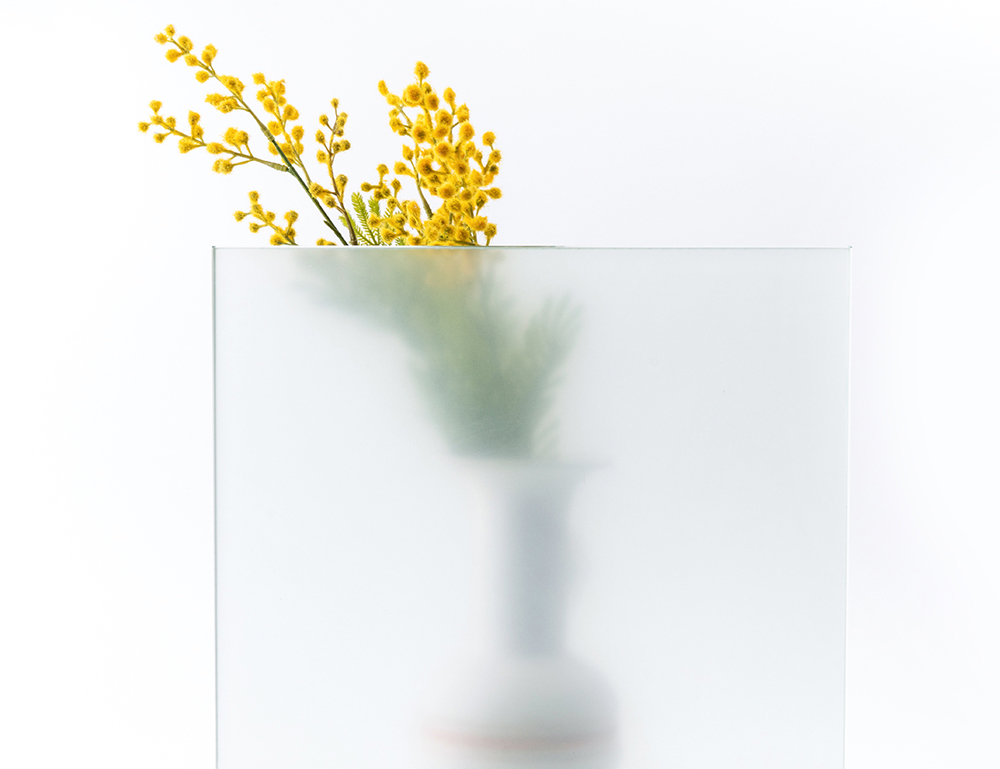 Sandblasting 
This is a frosted glass method that uses high-pressure air to shoot sand or similar materials that will impact glass surface, thus creating the frosted effect.
However, this is a method that destroys alters the surface of the glass permanently. It eliminates the original smooth surface of the glass and creates a rough surface for the touch of the hand, which may not be desirable for some applications.
Moreover, it is usually an expensive method which requires great skills to achieve the desired results, which means the final price of the frosted glass is increased. Therefore, it is not the best alternative to maximize profitability and competitiveness.
Acid etching
This is another common method to produce frosted glass. As the name suggests, the acid etching process uses an acid solution to corrode the glass surface to form the frosting effect. Normally, the glass is acid etched directly after cutting it or after it is tempered to increase strength and durability.
The main issue with acid etching for frosted glass production is the fact that the quality of the result depends mainly on the quality of the acid and the expertise of the supplier. In general, the quality is uneven and the cost of it varies greatly.
Another relevant drawback is that average acid etched frosting is prone to fingerprints and poor vision, which is not a very good feature for glass mainly applied in architectural and decorative applications.
While high-quality acid etched glass feels like satin when hand touched, the price is usually absurd. This can only limit the chances for your company to be more profitable and competitive, so you may want to stay away from suppliers that only offer this solution.
APIS Silk Screen Printing Technology To Produce Frosted Glass
It is true that you rarely hear silk screen printing as the solution to manufacture frosted glass. However, it is also true that this is a method that helps us overcome all the flaws found with the previous two methods.
Moreover, our in-house developed method allows us to achieve on our frosted glass the same visual effect as the one you see in Saint-Gobain's SATINOVO MATE.
How we do it? We print by means of ceramic paint, which enables us to do full-page printing or pattern printing.
The glass is tempered at 700°C, so that the glass and the frosted ceramic glaze can be integrated to form a glass frosted effect.
It is also relevant to mention that we use Italian Fenzi or American Ferro high-temperature environmentally friendly inks. The product standards meet the quality of Saint-Gobain, and the feel is close to satin glass, but at a much lower price. This means your company can maximize profits while improving competitiveness.
Why Choosing Apis Glass For Your Frosted Glass Supplier
If you have been struggling to find your frosted glass supplier, that struggle can end right now. By choosing us as your frosted glass supplier you can rest assured that you will get high quality at a competitive price.
Moreover, you can get exactly the kind of frosted glass you have been dreaming about to make your brand stand out above your competitors as a unique premium brand.
To give you a better idea on why you should choose Apis Glass as your frosted glass supplier, here's a summary of the benefits you will be getting.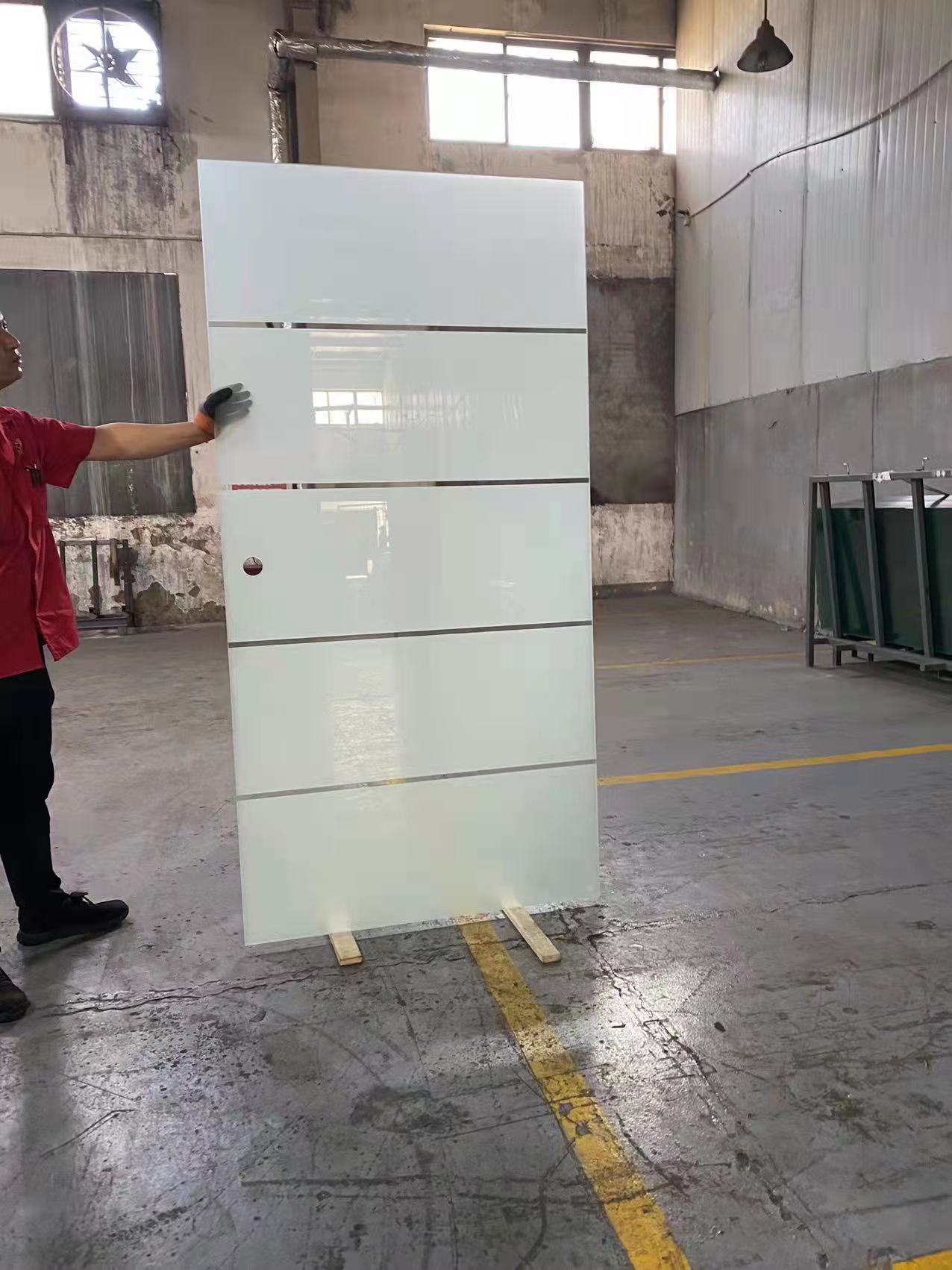 Benefits of Apis Silk Screen Printing Frosted Glass
Product created by a technical staff team with 10 years of experience.
Dust-free workshop with constant temperature and humidity to prevent product alteration and contamination.
Environmentally friendly and regulation compliant supplier.
Highest-quality requirements met for both European and American customers' requirements. We take pride of working hand-in-hand with all our customers while building strong and long-lasting relationships.
Moreover, you will be getting a product that excels for a series of special features. Here's a quick look.
Silk Screen Printing Frosted Glass Main Features
Apart from being printed before tempering to guarantee a strong and durable product, these are the main features of our silk screen printing frosted glass:
Scratch resistance.
Temperature resistance in the range of -30°C to 230°C approximately.
Resistance to weak acid and base.
Ceramic paint does not fall off, keeping the frosted effect and patterns intact.
Water proof and moisture proof, making it a great solution for exterior applications and applications exposed to water such as showers and bathtubs.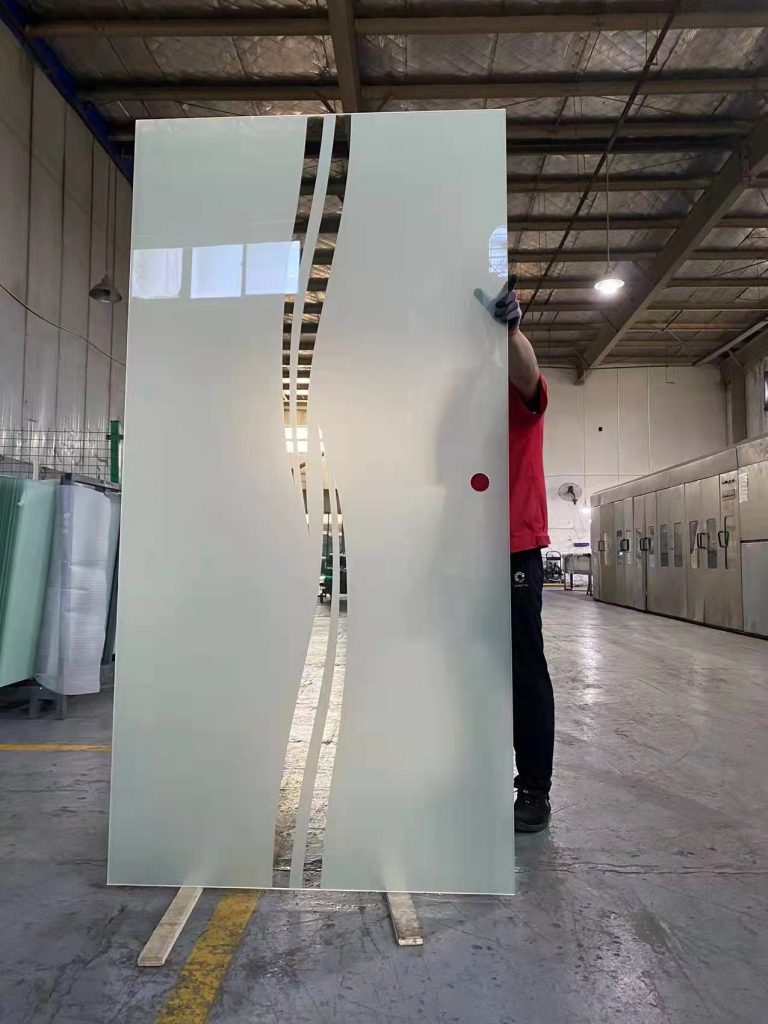 Given the last point in the previous list, if you want to know what are common applications, here are the most common ones.
Applications of Silk Screen Printing Frosted Glass
This type of glass can be used in a wide variety of applications. If you can imagine it, it will probably work for it. This said, here's a list of the most common applications for our silk screen printing frosted glass:
Interior design as a decorative glass. This is because of its unique translucent visual effect and the several patterns that can be achieved.
Shower room glass due to its water and moisture resistance, as well as the privacy provided by the blur obtained with the frosted effect.
Barn door.
Glass Partition where some privacy is required.
Furniture cupboard to get a more innovative look.
Interior door, especially when a pattern or a logo is required like in an office.
Pantry door.
APIS Glass – Best Frosted Glass Factory Based In China
There you have it. Now you know the different solutions suppliers offer for frosted glass, and the impact each one of them can have on your business.
If you want to get the most out of your glass supplier, you need to have one that can offer you the highest possible quality at competitive affordable prices. This is the only way your company can maximize profits and beat the competition.
Therefore, we recommend you to not look any further. Apis Glass is here to help you achieve your goals.
Of course, if you are in doubt or would like to learn more about our offerings and how we can help you and your business to increase profitability and competitiveness, contact us now.
Our experienced and professional sales team is always ready to help you and will use our 16 years of valuable experience in the glass industry to understand your company's needs and offer you the most relevant solution.