Square & Rectangle Table Top Glass
 Apis has been customizing 3-12mm tempered glass table top for customers in Europe and the United States. The shapes include rectangles, squares, round, and other special shapes. We can provide all edge works like flat, pencil, and beveled edges, but also provide different corner treatments, such as beveled corners, rounded corners, etc.
Rectangle Table Top Glass Processing Details
For rectangle table top glass, We can provide all edge works like flat edge, pencil edge, and beveled edges. With bright polishing and smooth hand feeling. 
We can process cornor works like R Cornor, chamfer cornor for rectangle glass table top etc. Not only fit your product design but also better protect the end users. 
Square Glass Tabletop Processing Description
| Items | Description | Tolerance |
| --- | --- | --- |
| Thickness 1# | 4mm,5mm,6mm | ±0.20 mm |
| Thickness 2# | 8mm,10mm,12mm | ±0.30 mm |
| Size | 100-2500mm | ±1mm |
| Cornors | R3mm-R50mm | ±2 mm |
| Type | Clear, Extra Clear, Tint | N/A |
Square & Rectangle Glass Table Top Tempering
Our company's internal standards are higher than the European CE standards and the US SGCC standard. We inspect the rectangle glass table top on each shift: flatness, granularity, and record data;
Performance test: the strength and impact resistance of tempered glass;
Appearance inspection: every piece of glass is inspected when it is packed;
We pursue a range of granularity, which makes the stress of our tempered glass table top uniform and effectively reduces spontaneous explosion.
Details : Smooth Hand Feeling and Perfect Corner
Apis has always insisted on using automotive-grade high-quality raw float glass to fabricate the tempered rectangle glass table top. The surface is clean and clear, smooth edging and perfect connection of rounded corners and four sides.  With meticulous workmanship, every piece of table top glass can meet the customer's pursuit of quality.
Square & Rectangle Table Top Glass Packaging
Carton Package for Express
Carton Sales package is desigend for express delivery.  With great protection for table top glass,  also can include the brochure and spares into one carton package.  
 We can also customize your Logo and bar code on the carton box, to easy your warehouse management and you can make delivery very quickly to your customers.  
We can also provide 20mm thick high-strength fumigation-free wooden boxes package for glass table top, each wooden box has a sufficient amount of desiccant, and sealed package. 
100mm height forklift hole, convenient for transportation; screw fixation, user-friendly and quick disassembly.
Painted Square & Rectangle Table Top Glass
Apis painted table top glass use environmental friendly ceramic paint, conform to ROHS standards, painted before tempering.
Technique: Ceramic paint would be tempered in 680℃~720℃,the paint and glass would melt together in the tempering process. Can Customize different colors.
Features:
* Scratch resistance
* Resistance to weak acid and base
* Uniform light transmittance
* Ceramic paint does not fall off, long time color adhesion.
* Easy to clean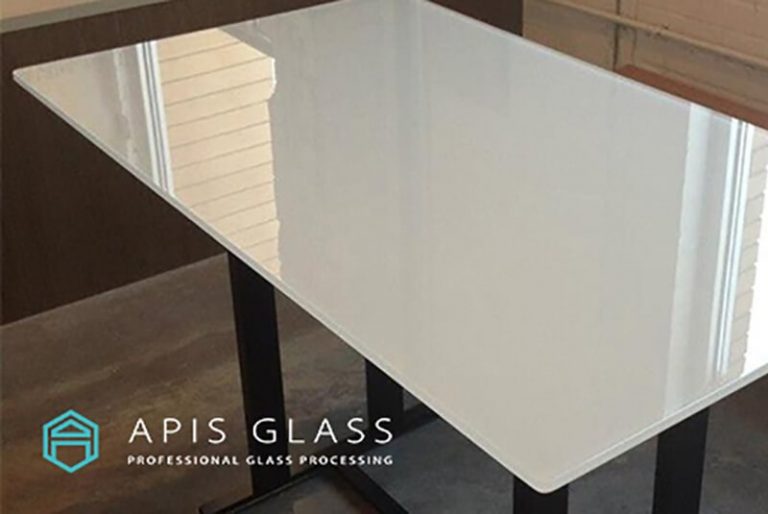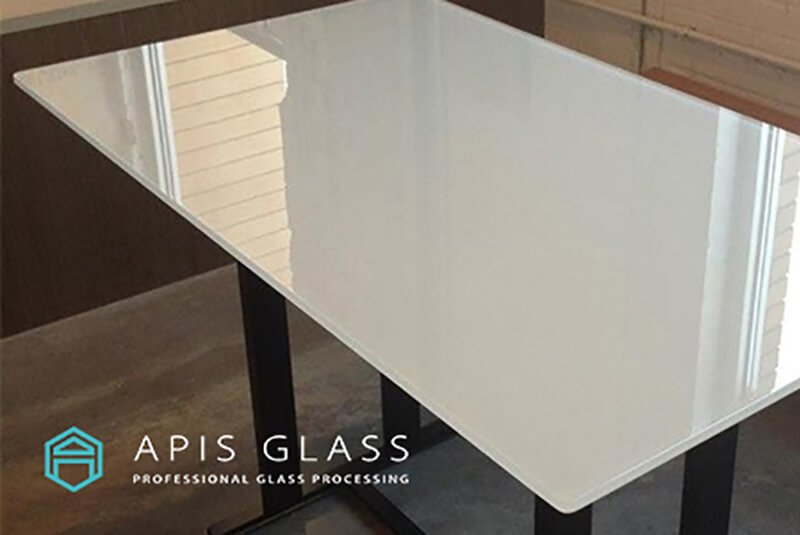 We have an experienced and professional sales team to serve you and fully understand your needs. With our 16 years of valuable experience in tempered table top glass, we can better help you and your brand.