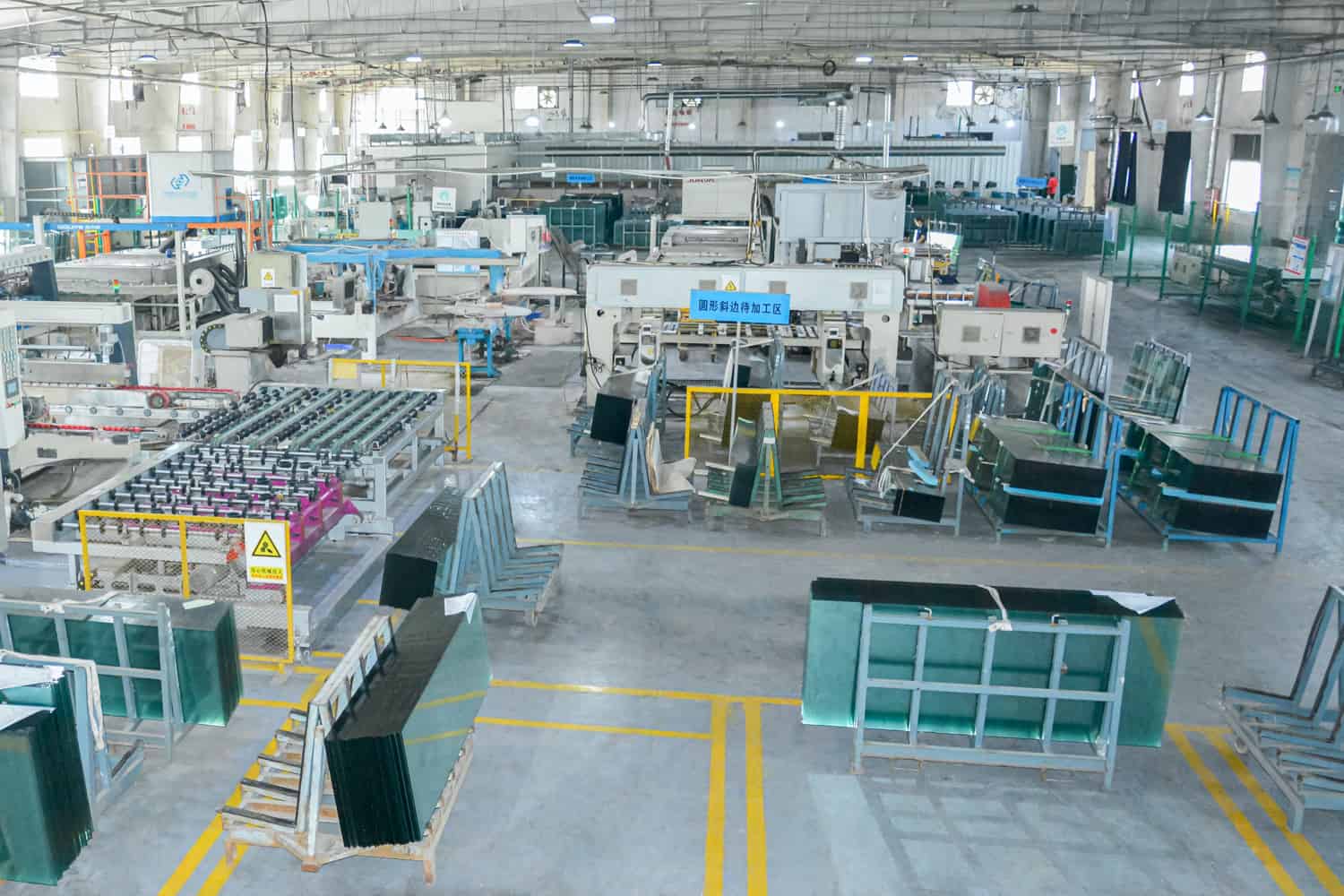 Tempered glass, also named toughened glass, takes prominence in large projects as a construction material since it has been reinforced by thermal and chemical processes. Nowadays, toughened glass is also a much more resistant and durable safety glass, being useful not only for decorative use but also as a constructive element.
The importance of A reliable temper glass factory
Tempering glass is a fundamental part of architectural design due to its great versatility, which makes it a great choice to be used in countless spaces. For example, you can see many glass products such as tempered glass table top, tempered window, heat resistant tempered glass sheets, temper glass bathroom and shelves.
If you want to get high quality tempered glass products, it is particularly important to choose the right glass factory. An excellent tempered glass factory will not only provide qualified products once, but also stable and excellent quality at all times! It will also provide a stable delivery service, reasonable prices and the ability to solve problems. It will cooperate with customers to develop new custom temper glass products and provide them with good valuable advice.
To ensure the quality of the final tempered glass panels that the consumer will get, the toughened glass raw material, equipment and machinery must meet a series of requirements and technical specifications that can be verified and certified.
So, how to choose a tempered glass factory with this capability? What aspects should you pay attention to when inspecting the glass factory to judge whether it is an excellent tempered glass processing factory? Keep reading and find out.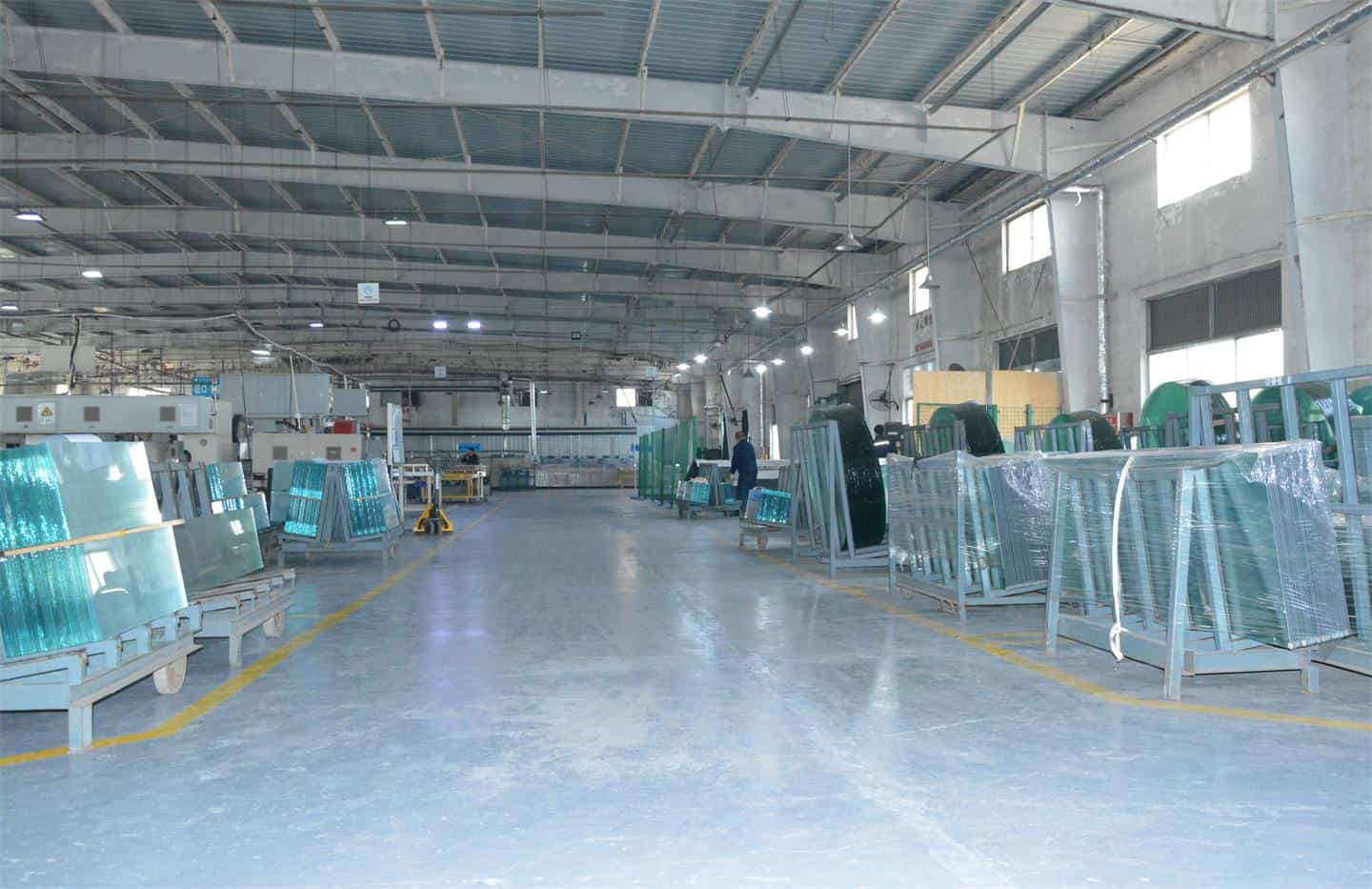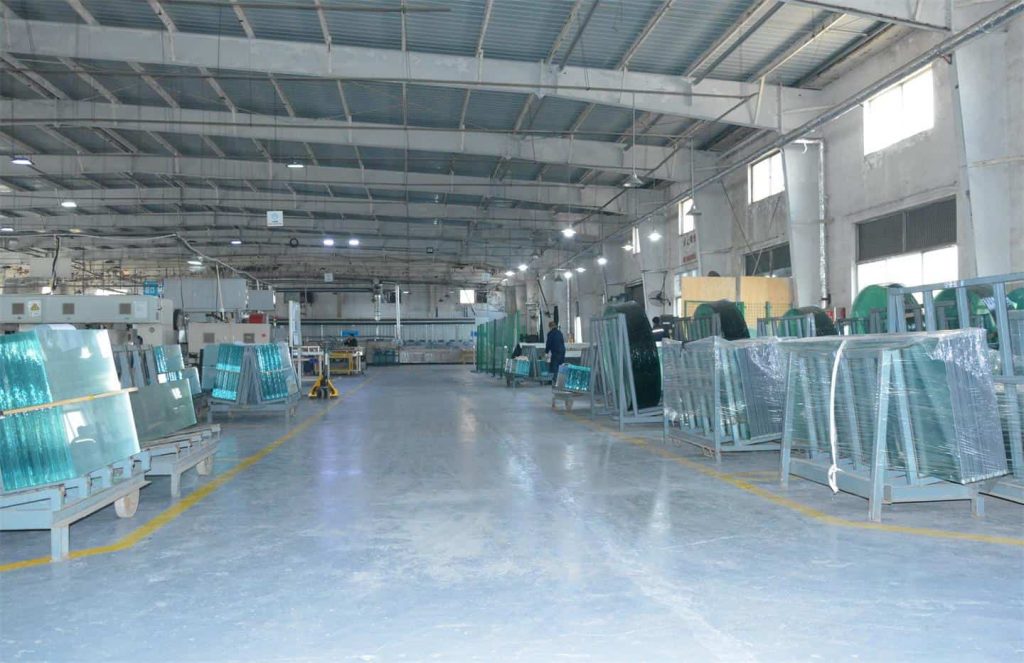 8 steps to inspect and select a right tempered glass factory
If you want to make sure a tempered glass factory is the right for you, these are 8 steps you should follow:
1. Use intuitive impression of temper glass factory
Intuitive thinking serves as the basis for us to establish an important criterion when conducting an inspection and choosing the right tempered glass factory supplier. Always remember that the first impression is one you can only have once. Here are some suggestions for you:
Verify if the glass factory site is clean and well lit.
Make sure the tempering glass factory has adequate ventilation.
Verify if the state of the glass processing equipment is clean and tidy.
Check what the mental outlook of the glass factory workers, whether the state of the work is serious, full of energy, whether there is vitality, love for work and a happy smile.
These are important factors that you should not overlook.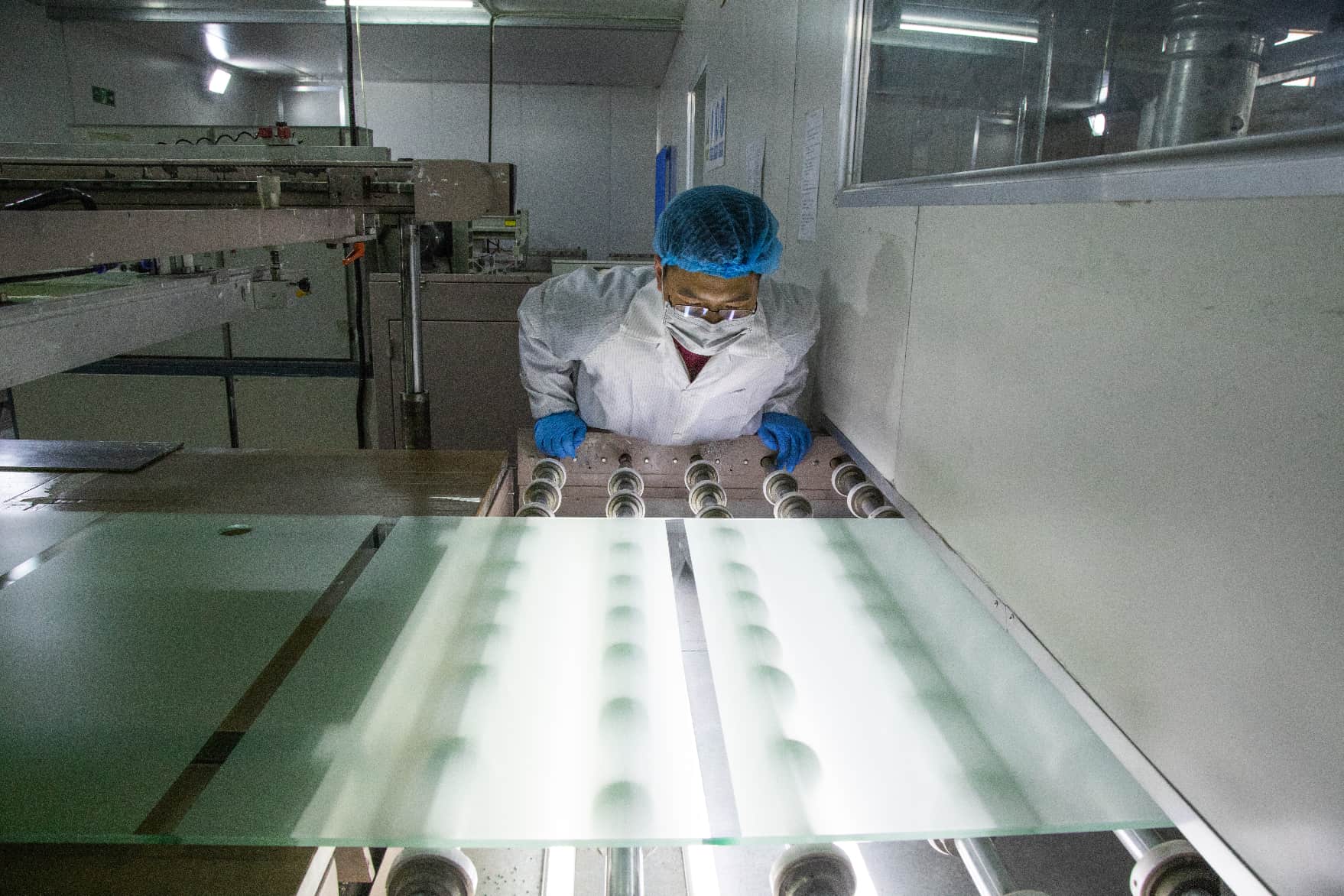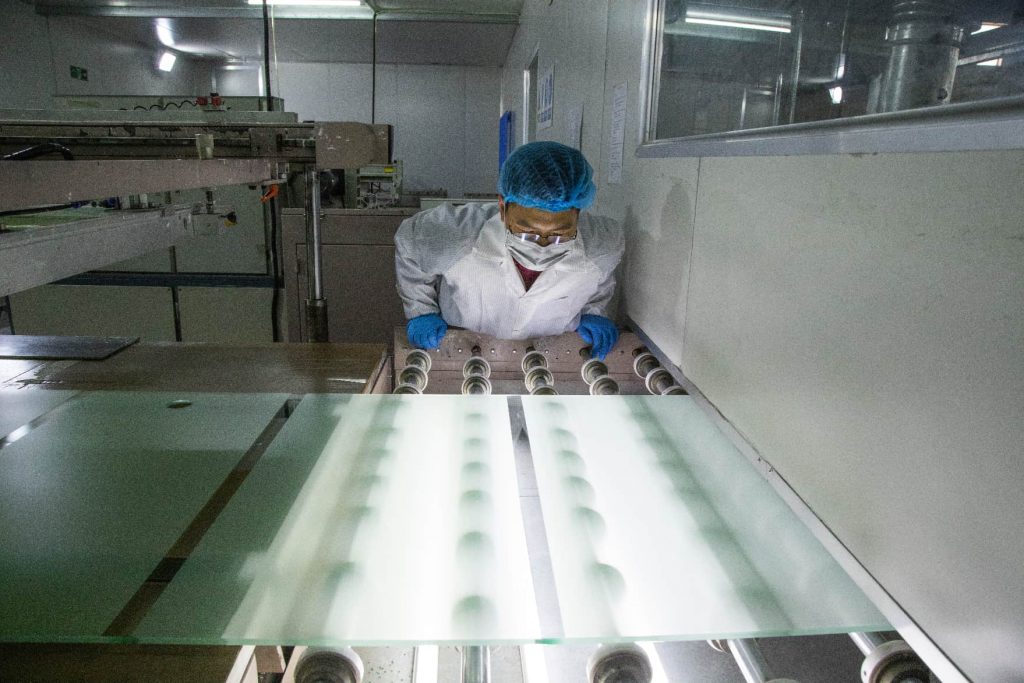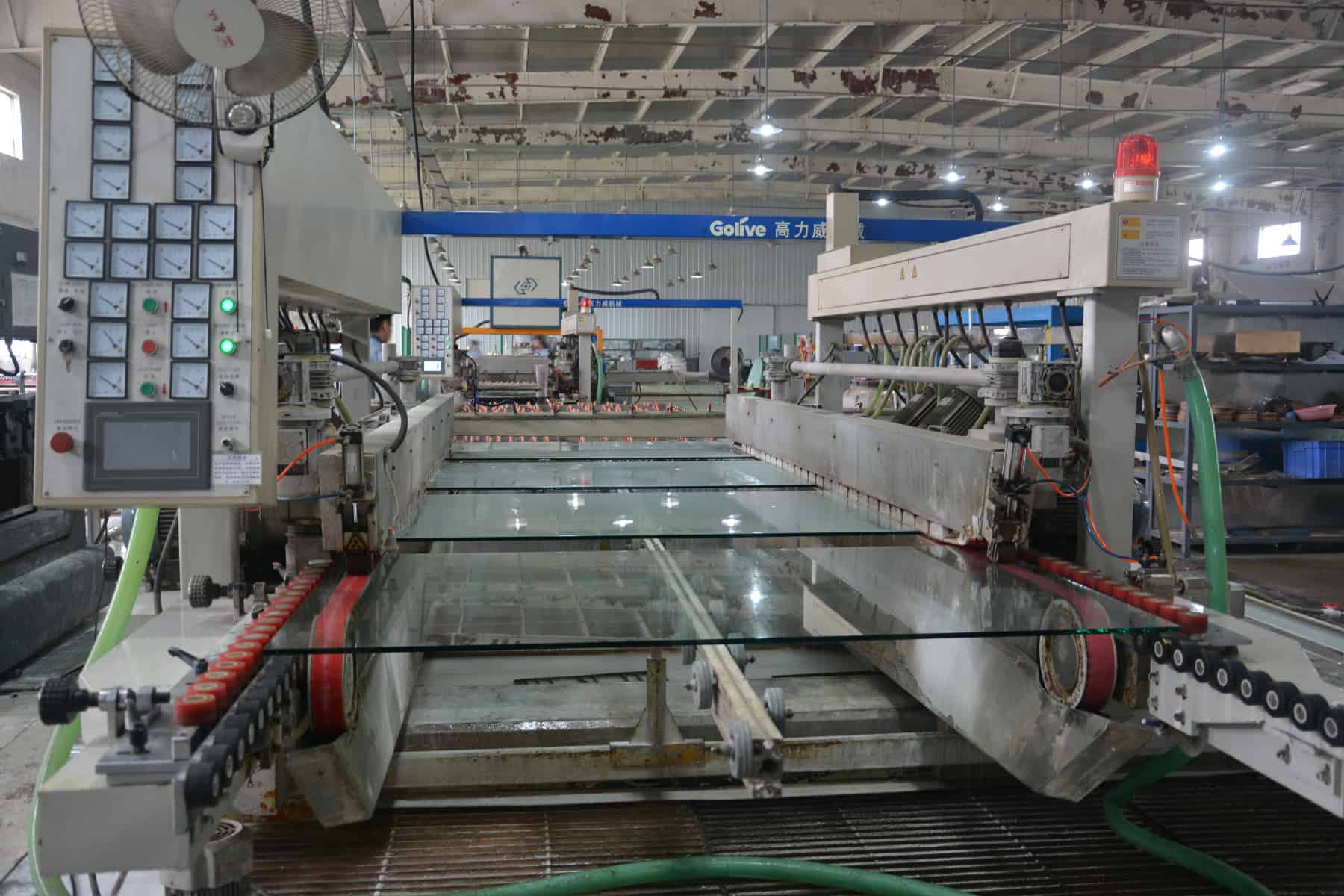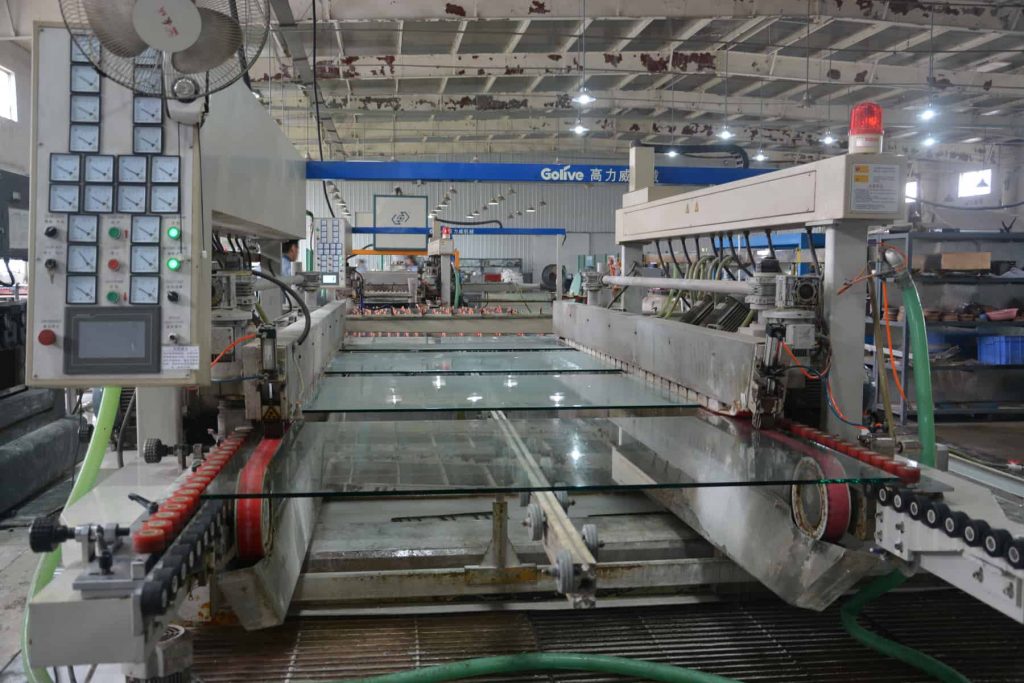 2. Check the most important raw glass materials are used.
The raw float glass material is one of the fundamental bases to manufacture excellent quality and durable tempered glass over time.
You should also check the following:
The label on the raw glass. The manufacturer is very important. (to know how to choose the raw glass, see the previous blog).
The production of float glass date must be less than 3 months.
The freshness of the glass must be guaranteed, as glass is prone to mold and mildew after a long storage time.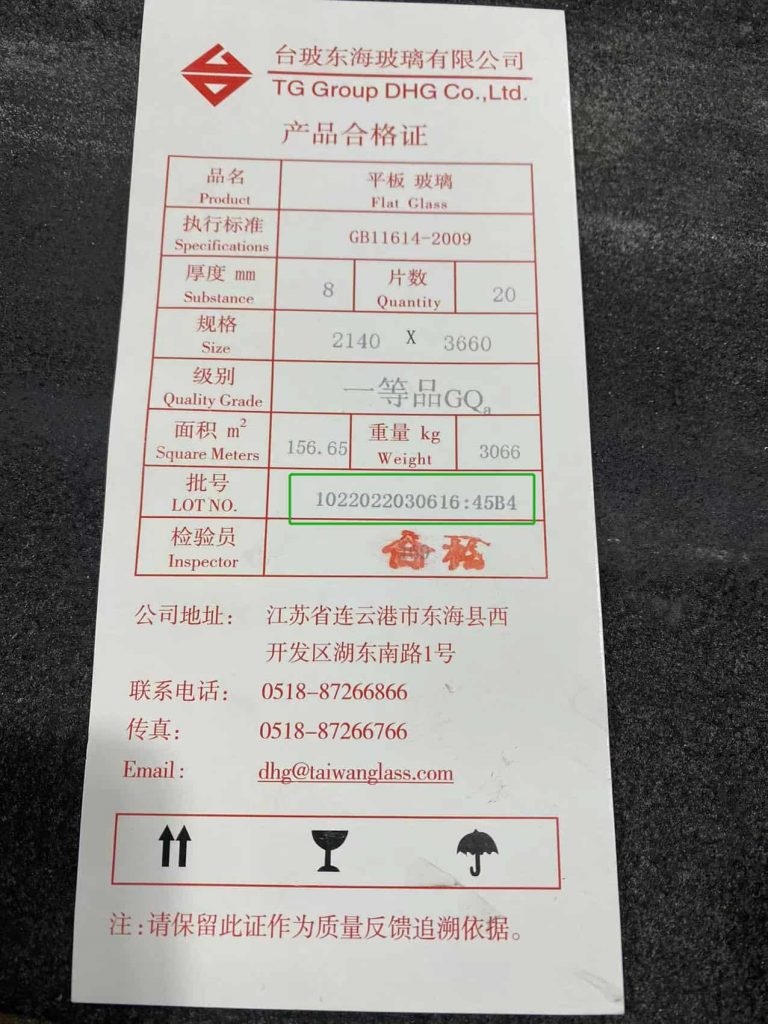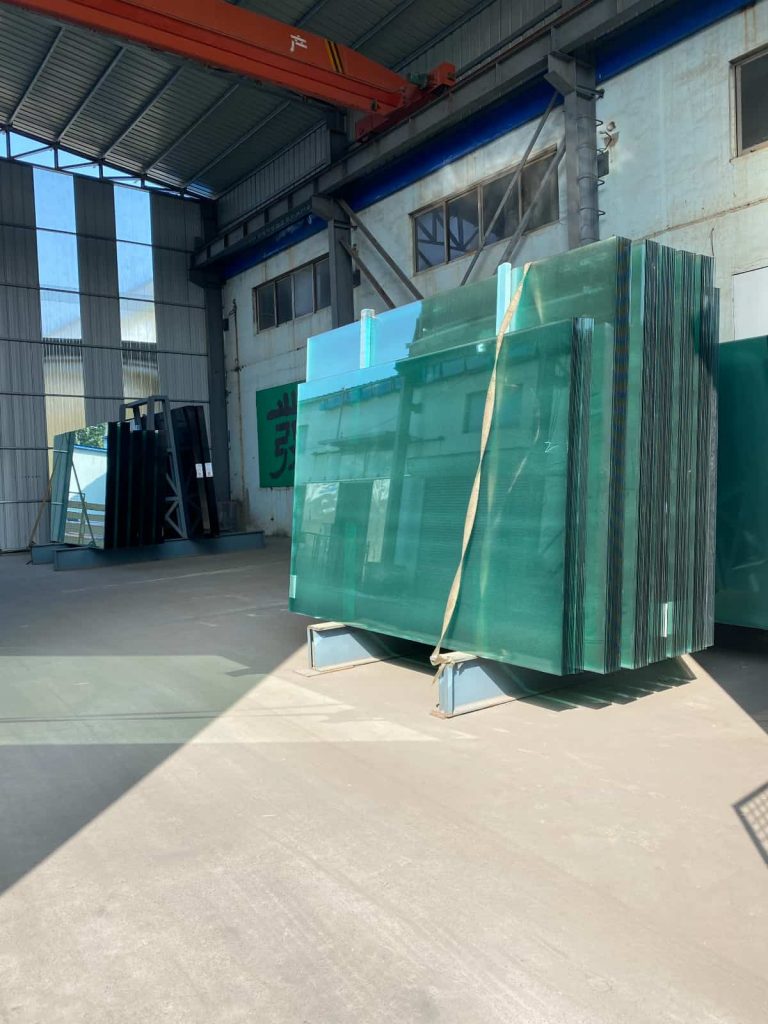 3. Documents for each glass process: Are there instructions?
Clearly, all workers and machine operators must know the temper glass and normal glass production process.
Each tempered glass processing procedure should have simple and easy operating instructions, and workers should be able to standardize the operation and provide the consistent quality expected by their customers.
All tempered glass panels produced in the factory should have a technical charter indicating compliance with all regulations.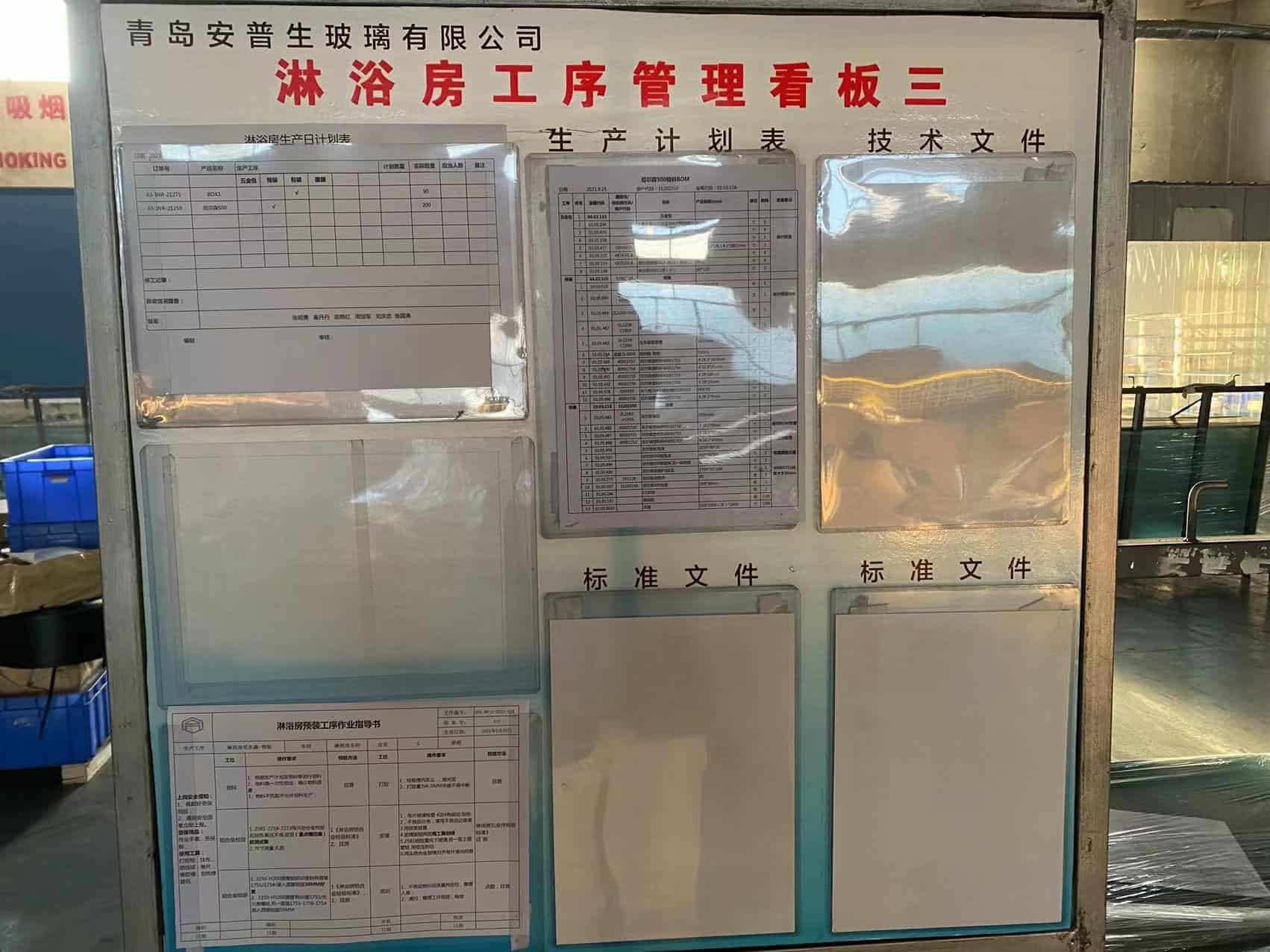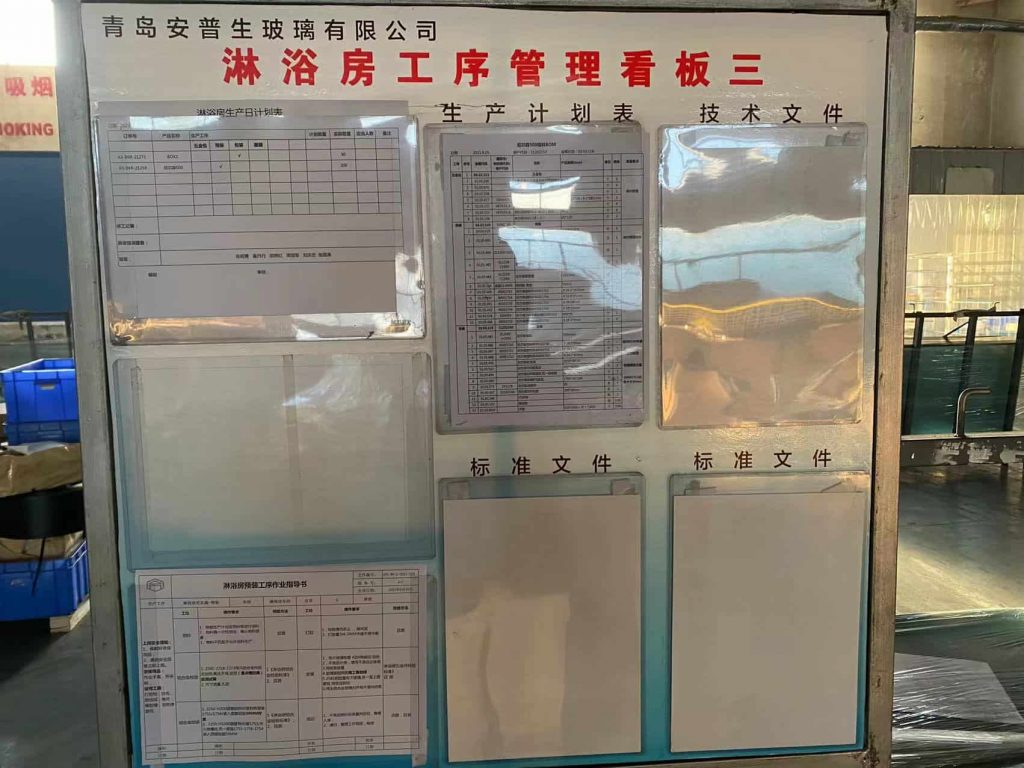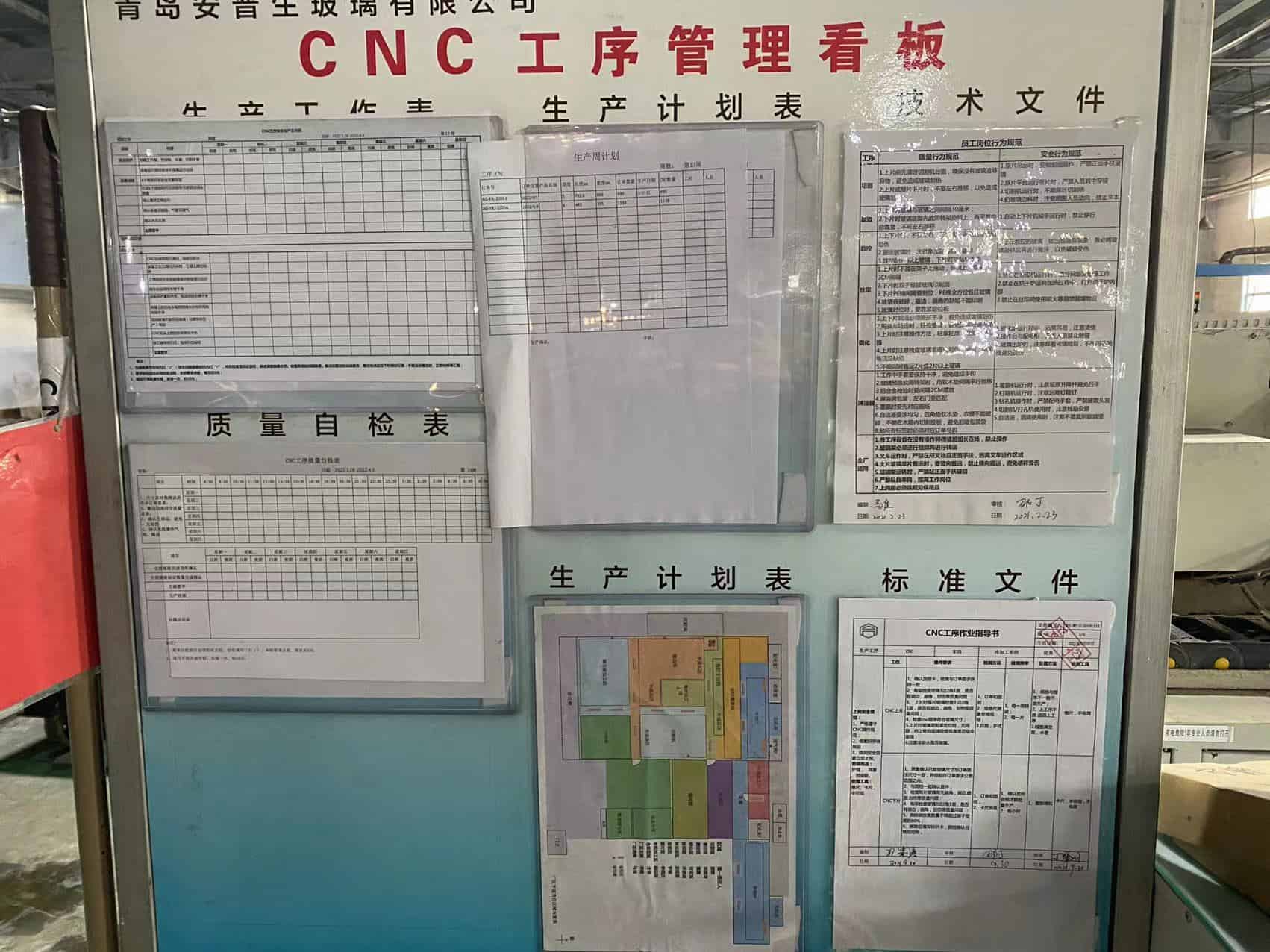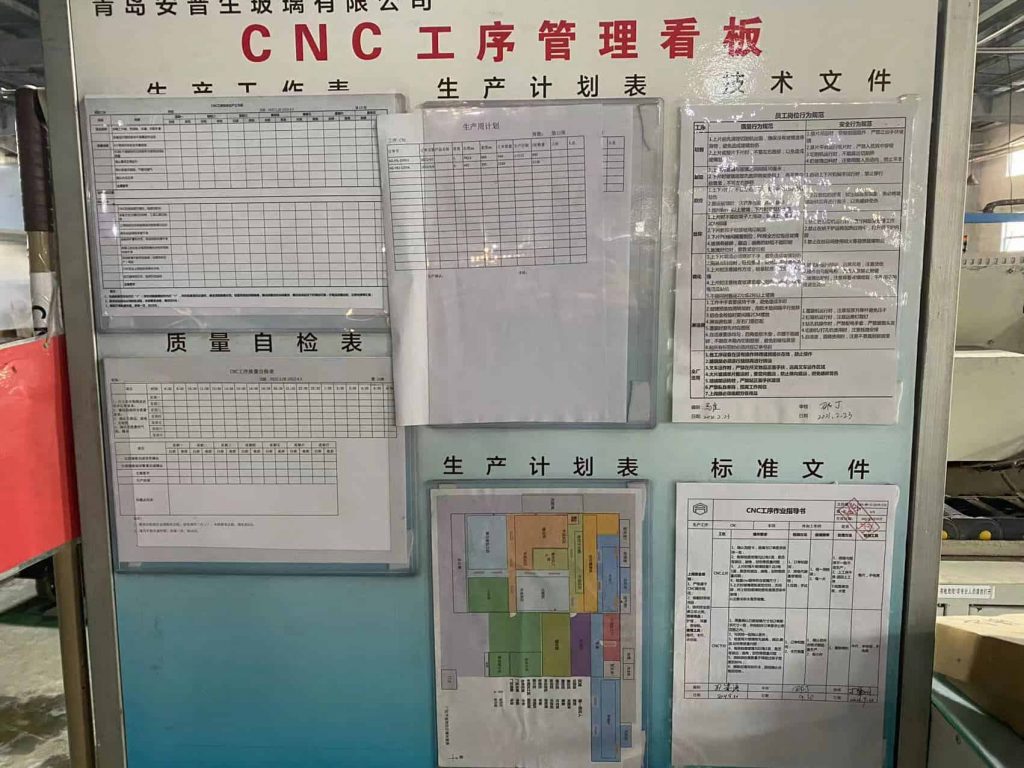 4. Check when the glass is circulated in each process.
When transferring between processes, the glass must be secured in the turnover car, otherwise the glass may fall and a safety accident may occur.
Check if there is a temper glass process card, if the process card has a quality control stamp and each process can check the quantity and quality of each one.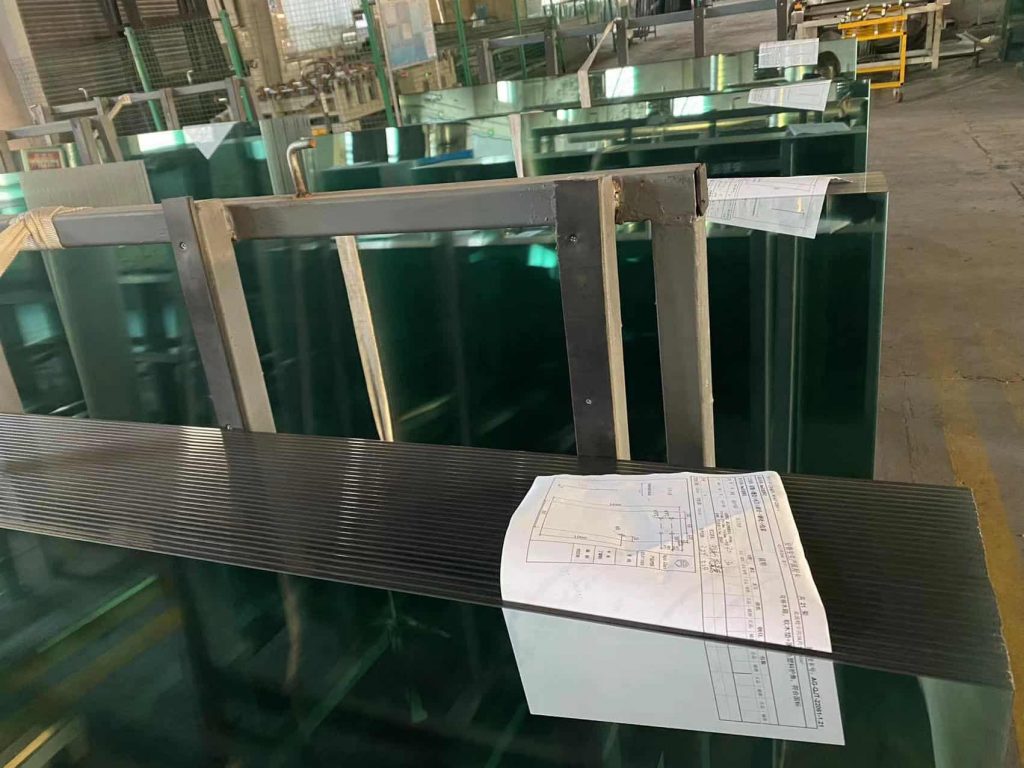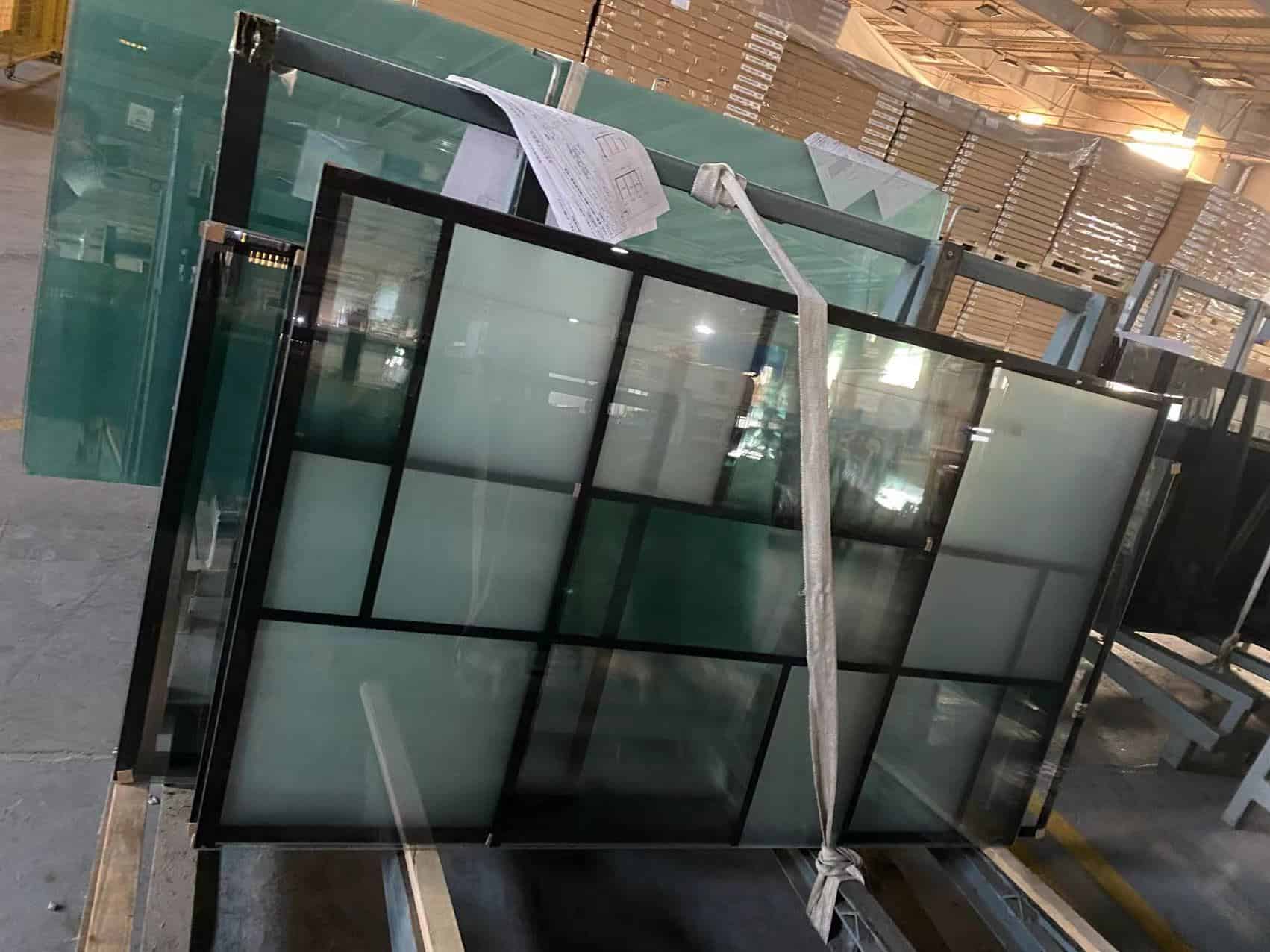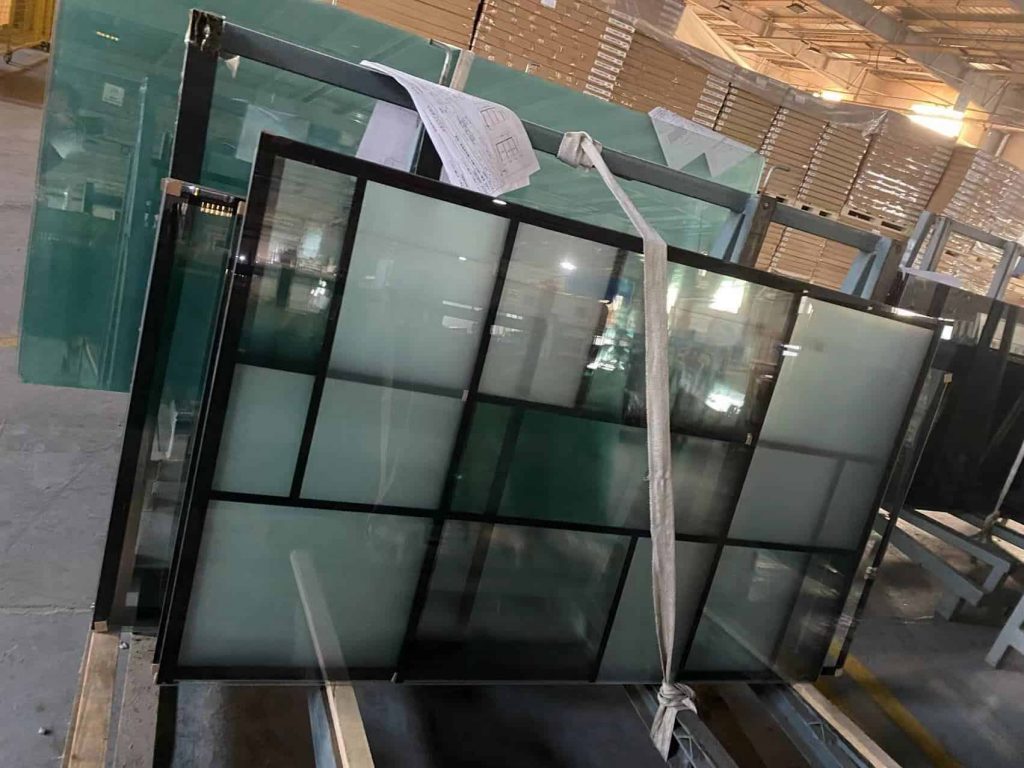 5. Verify if the workers use occupational safety equipment
Occupational safety, is of utmost importance to have a successful work. The prevention of occupational hazards in temper glass production is a very broad field and difficult to address in its entirety, but we must be able to define safe work procedures.
The totality of the employees of the tempering glass factory must have:
Work protection shoes.
Safety clothing for the glass industry.
Cut-resistant gloves.
Safety glasses.
Eye wash taps.
Breathing apparatus, if recommended.
An excellent tempered glass processing factory not only pays attention to product quality, but also shows its sense of responsibility towards its employees and the protection of the employees' personal safety.
As well as the occupational safety equipment, other aspects must be considered, such as having skillful, trained, and authorized operators present for each of the phases or processes of the custom glass production, which can be broadly divided into three parts:
Transportation and transfer of glass.
Handling and treatment of tempering glass panels.
Order and cleanliness. This is a basic aspect for the prevention of occupational hazards.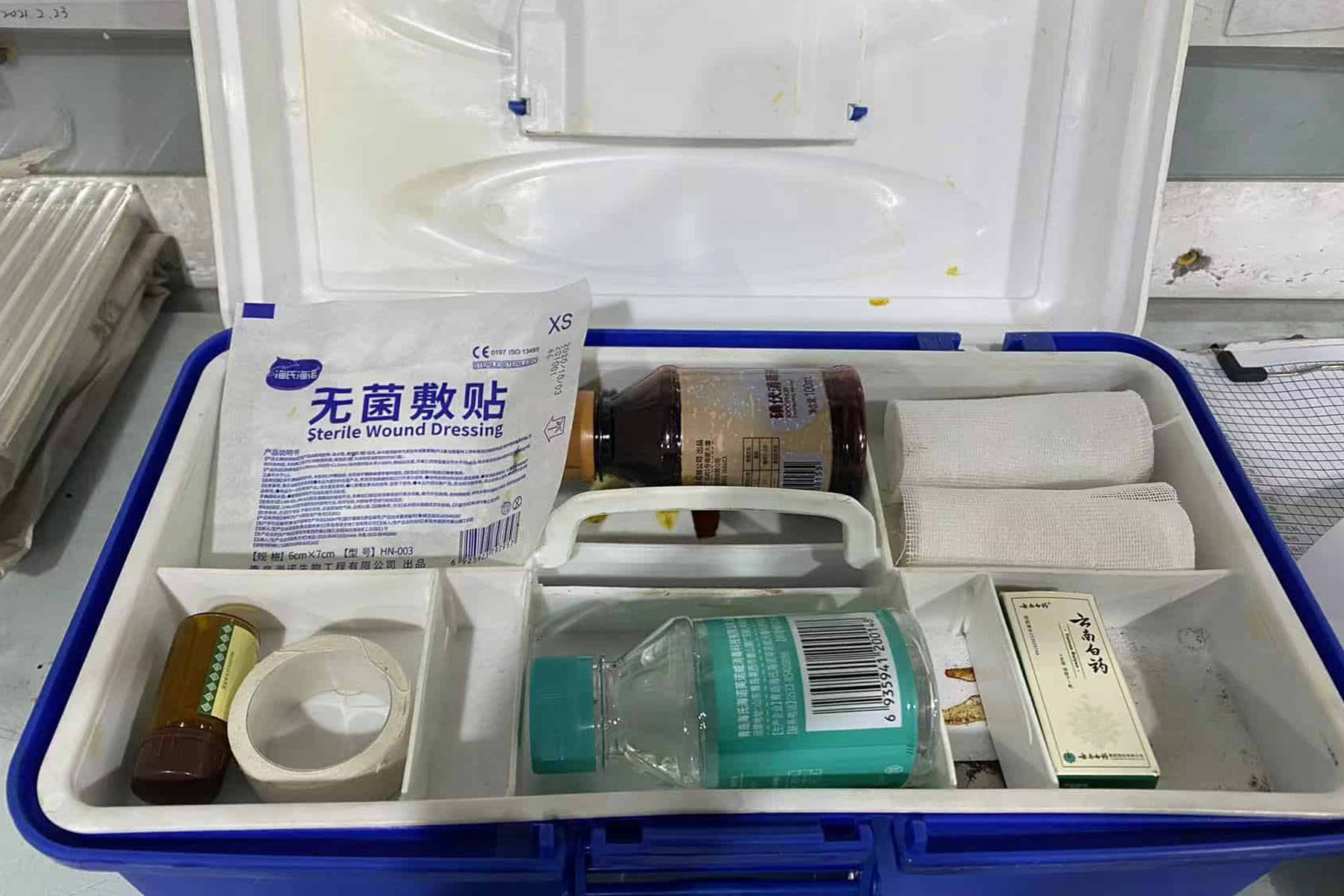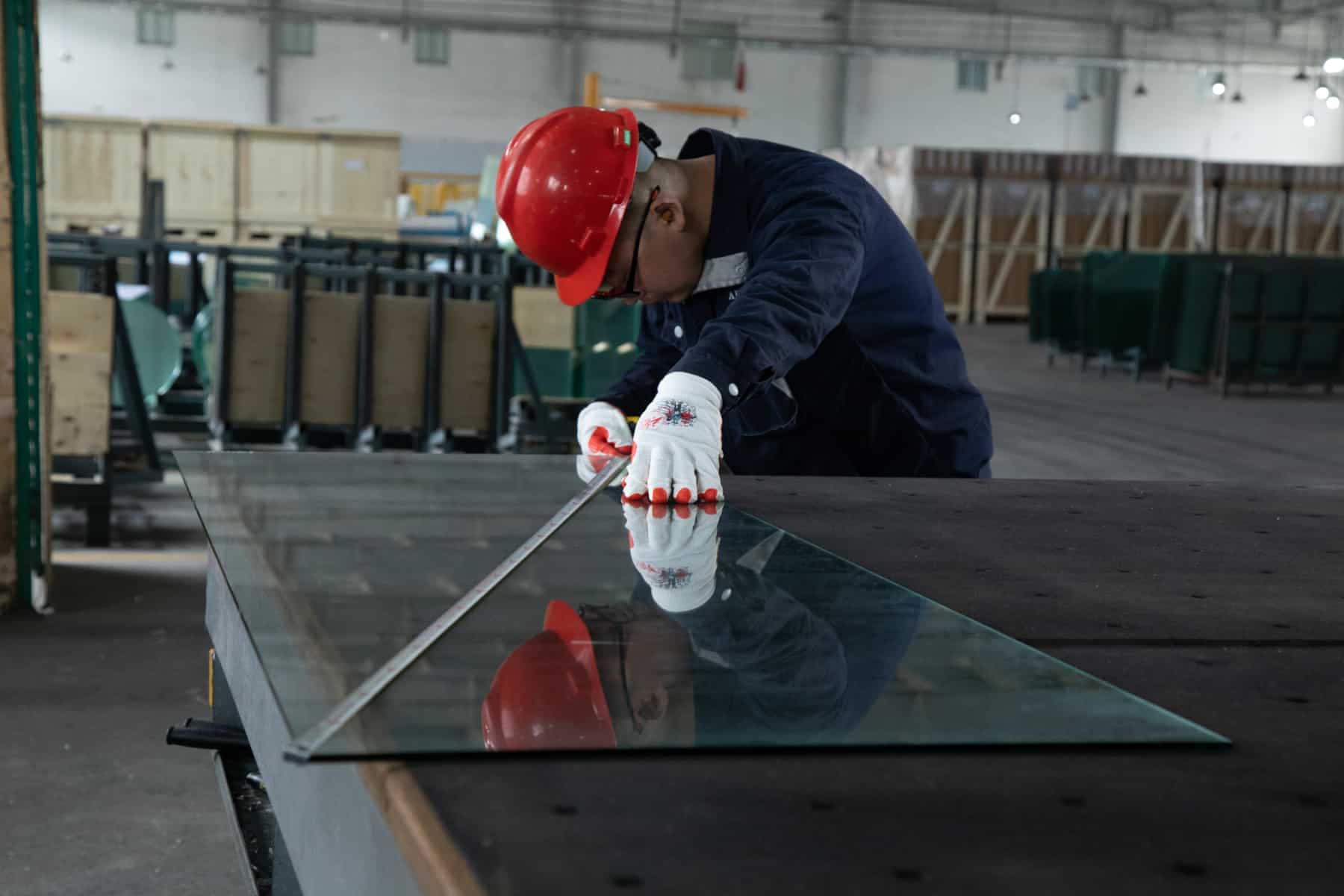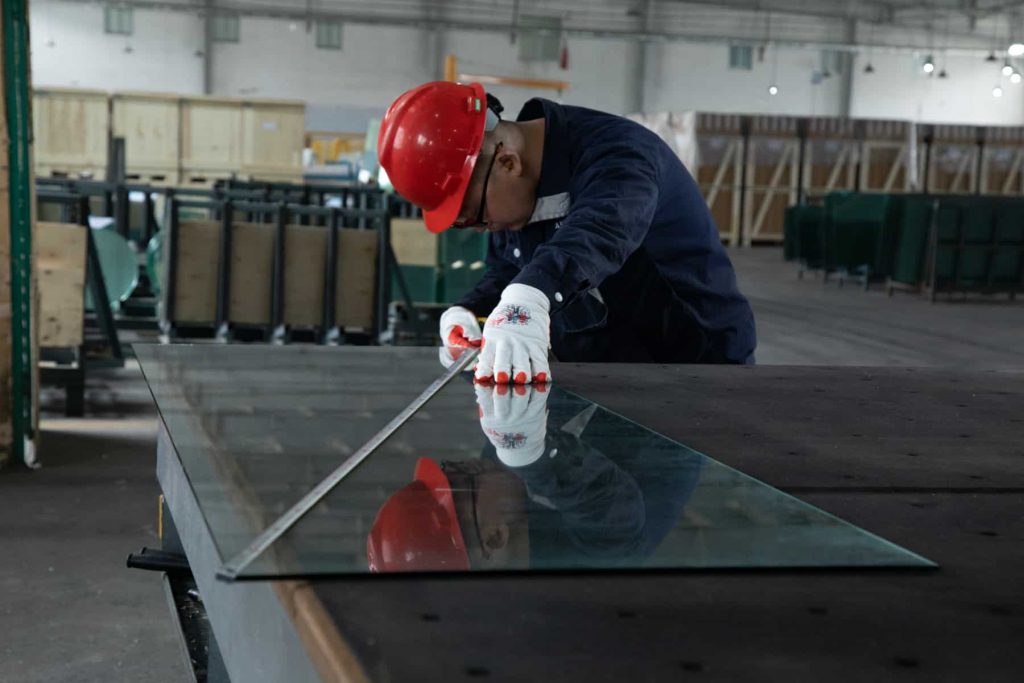 6. Check the environment protection in temper glass factory.
You shall check how the treatment of wastewater and printing gas is done, whether or not there is a corresponding environmental protection equipment and if there is a risk of it being turned off.
In the glass industry, a large amount of waste is generated, which must be treated before coming back into contact with the environment. The wastewater generated contains a high rate of suspended particles and a high number of pollutants that are difficult to treat. All these require specific purification equipment.
A large amount of wastewater will be generated in tempered glass processing. Even if the printing glass is made of environmentally friendly water-based lead-free ceramic paint, it will also have a special odor, which must be purified before it can be discharged.
Therefore, the glass factory must have the corresponding environmental protection equipment. Otherwise, the government will force the factory to stop production for rectification. If you choose such a glass factory as supplier, then the delivery of the glass product will be at risk and may not be continuous.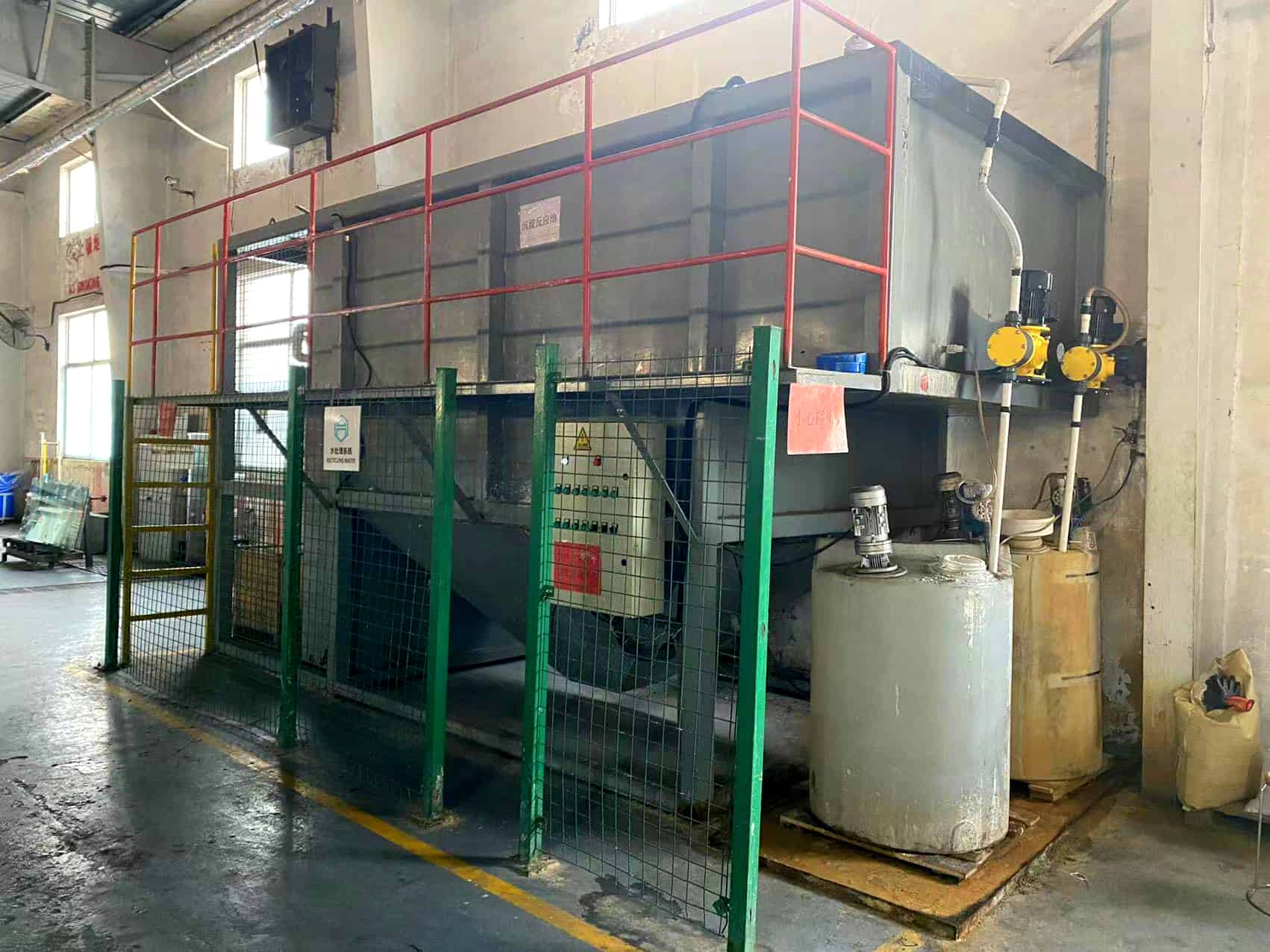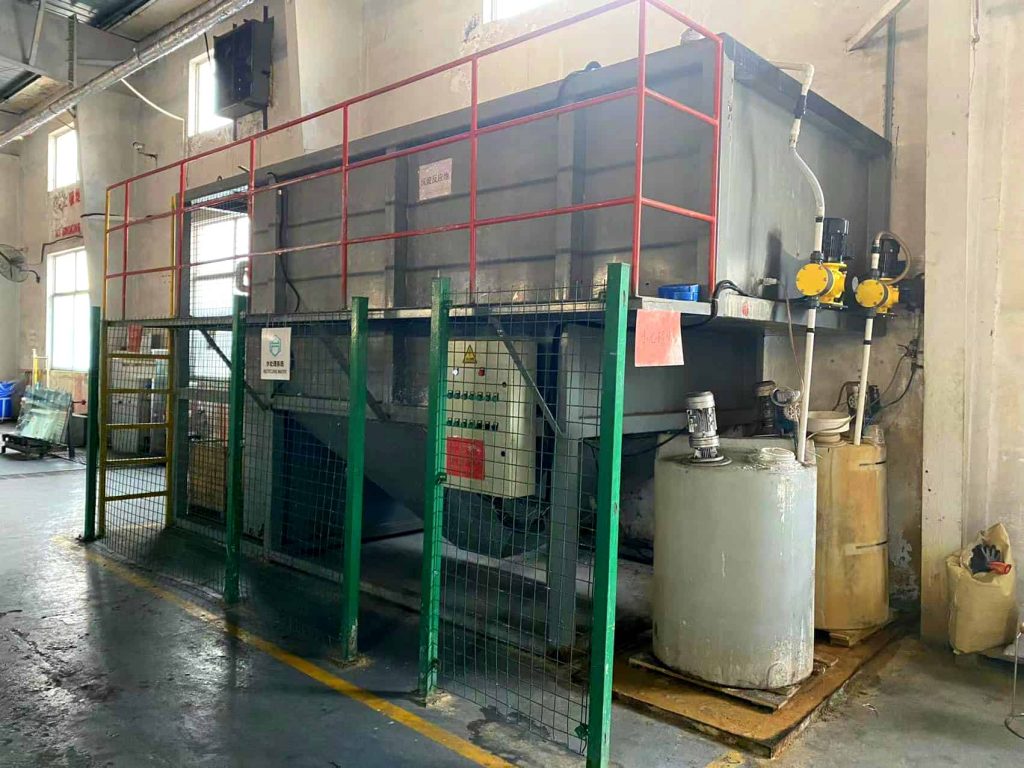 7. Check the quality inspection record sheet
You shall check the quality inspection record in the glass factory especially the glass tempering quality record. The frequency should be at least once per equipment. The scheme for maintaining quality control in each of the glass processes has three fundamental components: worker, machines and processes. The operation is examined by placing high quality input glass panels and generating output products of the same quality.
Each process must have a quality inspection record sheet, where all the characteristics are evaluated and comply with all the glass product specifications, including the tolerances. Thicknesses, sizes, corners, color and everything that is done in each tempering glass process must be measured.
For example, to ensure high quality and durability of tempered glass sheets, our standards exceed EN 12150 and ANSI Z97 standards. We perform thorough inspections on all of our toughened glass products to verify performance and appearance from production to packaging.
Many companies focus on glass and mirror solutions without paying attention to how the products are packaged and transported, which is a big mistake. We pay attention to the last detail, special requirements, humidity control treatment of the wood for packaging and the arrangement of the packages in the containers.
In order to satisfy the customer's custom glass needs, it is necessary to maintain the best quality at the lowest cost, respecting all specifications and requirements.
8. Ask the following questions to the glass processing factory
(1) Who are their current clients, which may reflect the level of the glass quality from this factory, and verify if it matches your market positioning.
The market positioning of the company should be based on the quality of its glass products where it refers to the features and benefits. In other words, it represents how successful its tempering glass and normal glass products are.
(2) Existing glass customers, who can provide more information through their testimonials. Ask if they can provide a list who buy tempering glass from this factory.
Counting on the experience of other glass customers is very important. They will provide you with the point of view of the consumer on how their relationship with the glass factory has been.
The experience and reviews of glass buyers help to inspire confidence, give credibility to a tempered glass brand, and demonstrate the benefits of the glass product.
(3) Advantageous process? It must be what you really need.
Consideration should be given to a glass factory company that offers high quality at a competitive price to ensure you have the best tempered glass supplier for your needs.
In short, a glass factory with a management system, a technology and market to match, and a desire to cooperate, can be the basis for long-term cooperation.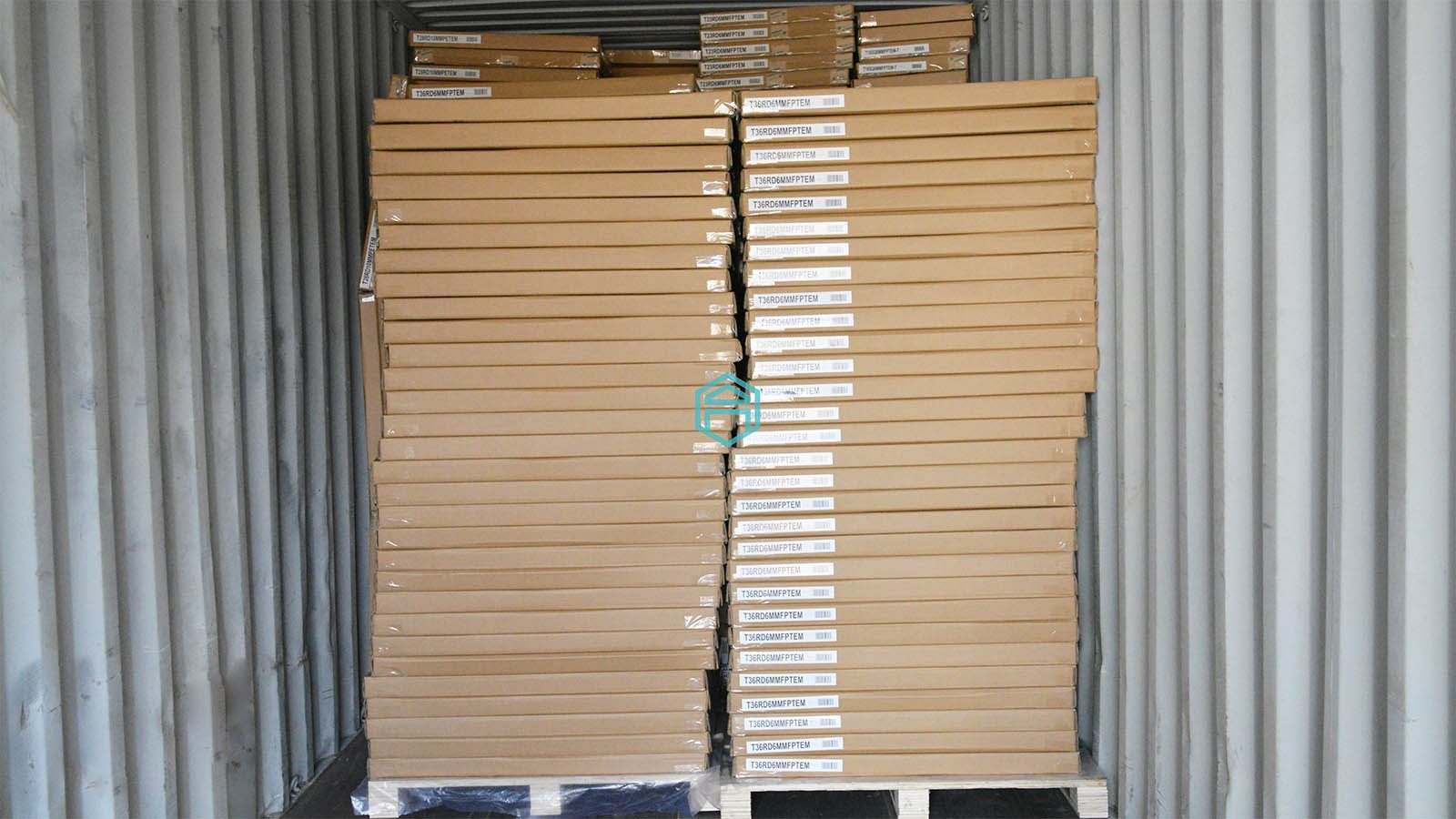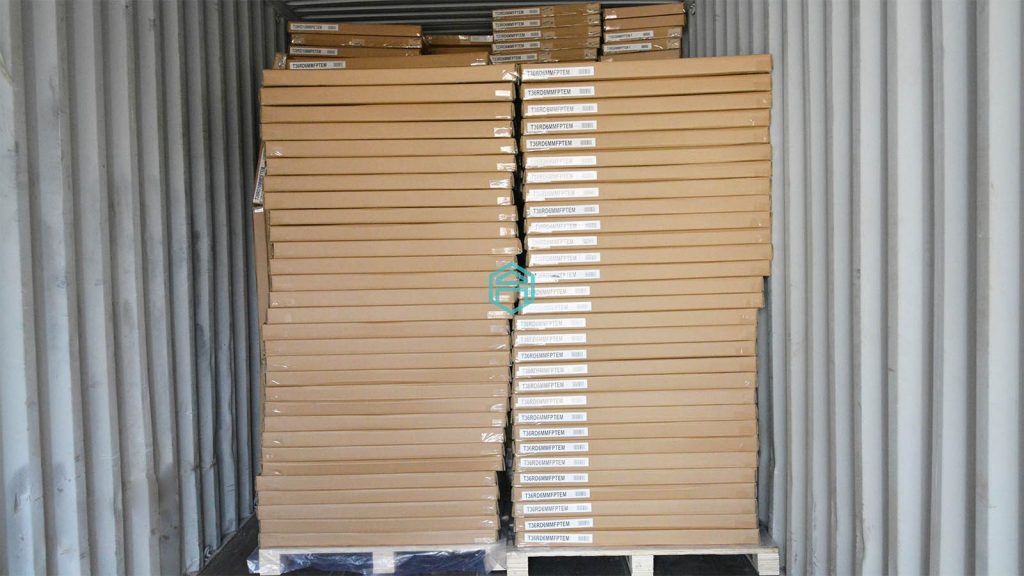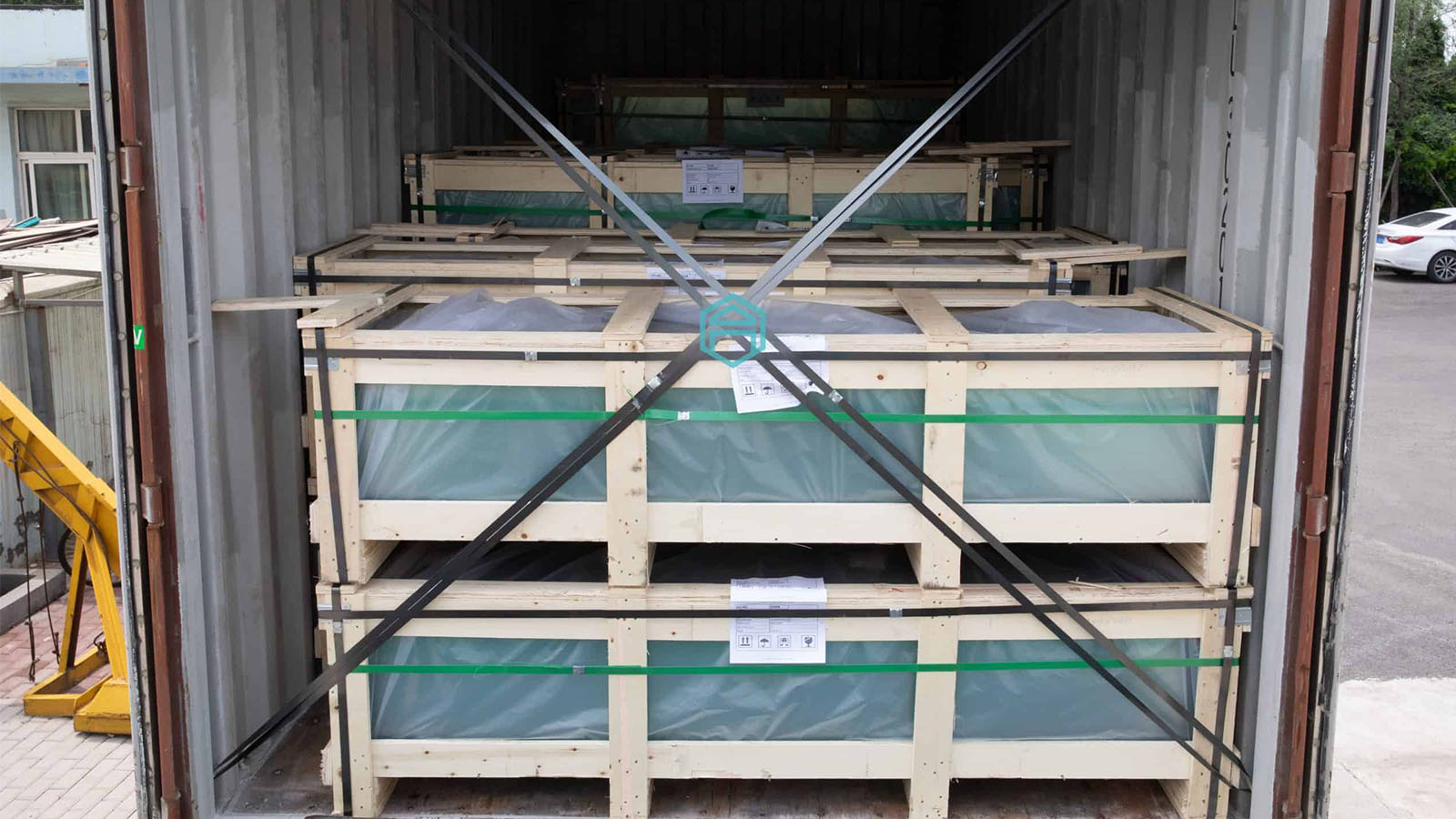 Even though the Covid-19 may have stopped you from visiting and inspecting temper glass factory in China, you can still use tips above to give an online video call inspection. If you have found it difficult to find a factory that meets all your requirements to produce high-quality tempered glass, Apis glass experienced and professional team is ready to assist for building custom temper glass for your project.
APIS glass has been focused on improving the tempered glass quality in past 16 years. We have applied those details into adequate workspaces, skilled and trained personnel to build better quality and durability in each of the glass products. Our customers support our position in the market, being the glass factory company in China that can offer you the most adequate solution for all your needs.