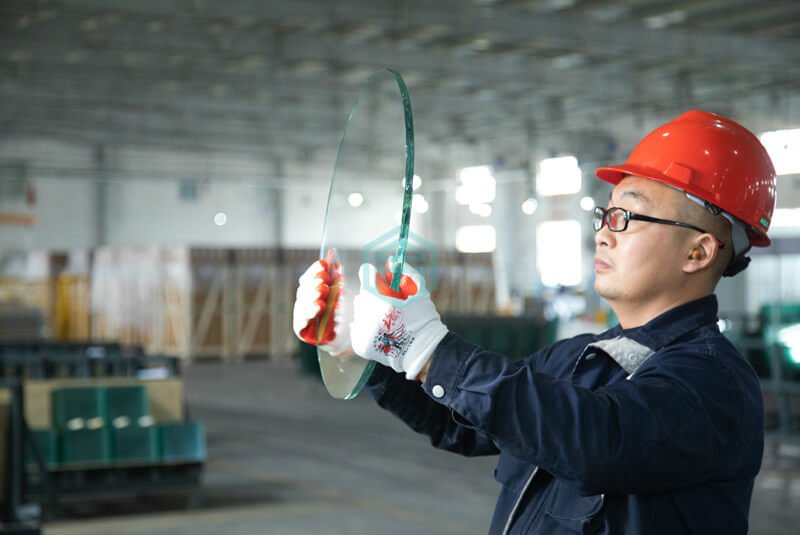 There is a number of glass manufacturers and suppliers in the market. Yet, many companies struggle to find a supplier that helps them build a high-quality brand while keeping profitable and competitive. And this is even more challenging when it comes to round tabletop glass.
Probably you have experienced that your supplier offers high quality, but this level of quality is not constant along time, so you have to stop working with this supplier and look somewhere else. Even worse, maybe the prices for round tabletop glass are very high, and still the quality is not as high as you expect.
All these problems have an explanation. Better yet, they have a solution, so you can get the perfect balance between quality and costs in order to build a top brand with high profits for your company. Keep reading to learn how to get a perfect tabletop glass with reasonable price to achieve the objectives of your company.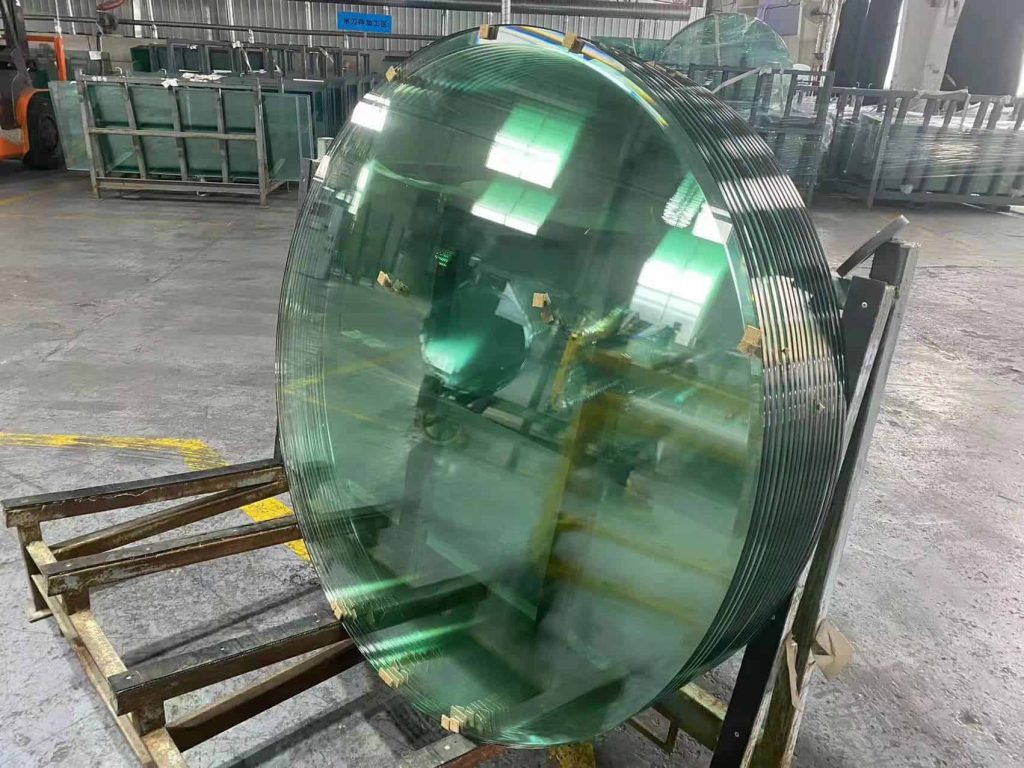 Challenges of Round Tabletop Glass Production
Producing a perfectly round tabletop glass comes with some challenges. The first one being cutting the piece of glass at the desired shape. If the cutting operation is not accurate and repeatable enough, then the supplier will not provide that consistent quality you expect.
A solution to this first problem could be doing some rework, but this will only result in extended lead times and increased costs that you most probably will not tolerate. And it is perfectly understandable.
Provided that the cutting is accurate and consistent, the next challenge is achieving perfectly polished edges.
Polishing the edges of round tabletop glass is more challenging compared to polishing the edges of square and rectangular tabletop glass. For example, we manage to polish the edges of square and rectangular glasses very quickly and with high accuracy by applying double edge grinding, but this method is not suitable for round tabletop glass because it requires grinding along a circle.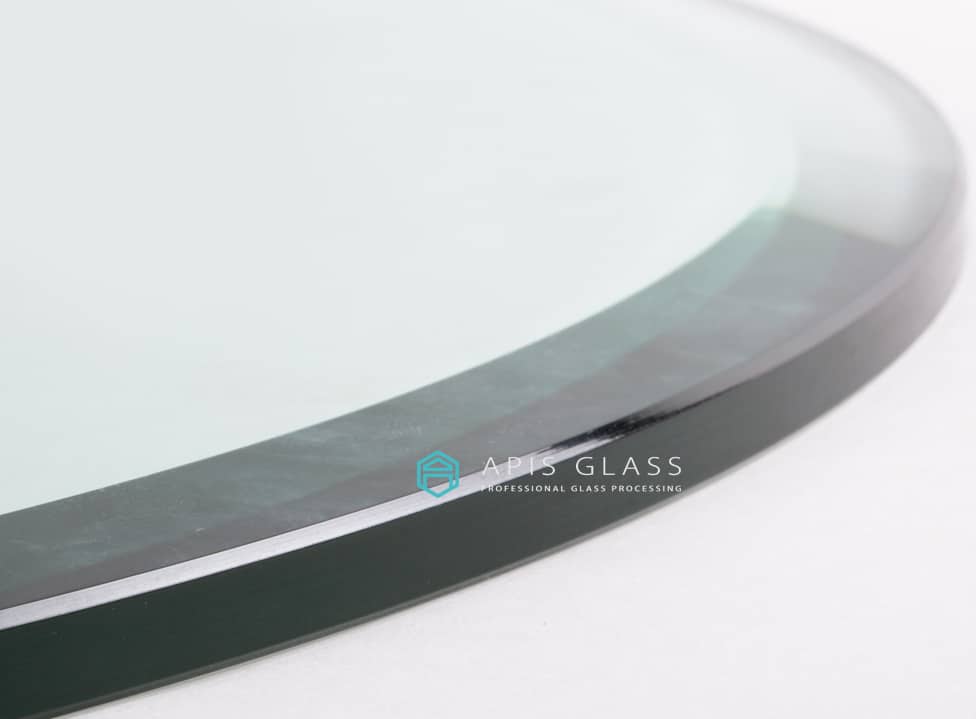 Most suppliers will work the edges of round tabletop glass by grinding manually. The result is a series of visible flaws after grinding, being the most relevant:
Appearance of a joint trace from revolving the glass in an oval motion. This creates weak points and is not very aesthetic.
When beveling the edge, the width of the bevel is not consistent. This results in a visible waved bevel.
More complex edge shapes are difficult to achieve, like the ogee edge.
Of course, most suppliers try to find and offer solutions. Many times, suppliers start using CNC grinding machines and manage to avoid the defects mentioned above. However, this usually comes with an associated cost you will not want to take: higher lead times and a higher price.
But why does this take so much time and why is it so costly? Let's take a look.
Why Lead Times and Costs Are Increased Using Traditional CNC Glass Grinding?
Traditional CNC grinding for round tabletop glass takes time because it is done with a single grinding head. This means that the glass needs to be revolved slowly to avoid damage while grinding and requires an operator to be supervising the process.
Moreover, due to the nature of the process, a lot of coolant needs to be used. All these add up to higher costs associated to energy consumption, labor and materials which are passed to you, the buyer.
While this is a solution that might give you better quality, the truth is that you will not be very profitable and competitive due to the associated costs. Therefore, meeting your objectives and those of your organization like building a trusted, high-quality and competitive brand will be very difficult to achieve.
Fortunately, you are not left alone. We've got your back.
Apis Glass Solutions To Reduce Round Tabletop Glass Cost
Here at Apis Glass we have developed a special CNC process with 4 grinding heads and a positioning device that enables grinding edges with perfect results much quicker than the rest of the supplier.
Our 4-headed machine allows for a smooth grinding process with reduced revolving needs to achieve the desired result in almost no time. Moreover, the positioning device ensures the grinding heads are at the right place and in the right angle to achieve perfectly finished edges that include:
Flat edge
Beveled edge
Pencil edge
What's more, the fact that we process round tabletop glass with this machine allows us to reduce the costs associated with the operation meaning we can offer you a more reasonable price with consistent high-quality results.
To guarantee high quality and durability, our internal standards exceed those of the EN 12150 and ANSI Z97 standards, and we conduct thorough inspections on all our tabletop glass products to verify performance and appearance from production until packaging.
And packaging is another point where we strive for excellence, so you can rest assured that you will receive your tabletop glass products in perfect conditions. You can learn more about our glass packaging practices.
Buy Apis Round Tabletop Glass With Competitive Price
Now you know how to get a perfect tabletop glass with reasonable price. If you are looking for a squared, rectangular and round tabletop glass supplier to build a competitive and reputable brand, look no further. Apis Glass is your go-to solution.
Of course, if you are in doubt or would like to learn more about our offerings and how we can help you and your business to increase profitability and competitiveness, contact us now.
Our experienced and professional sales team is always ready to help you and will use our 16 years of valuable experience to understand your company's needs and offer you the most relevant solution.